Born and raised in Manchester but based in Houston, Texas (via Nashville) in the States, Clive Gregson is an accomplished singer, musician and record producer of world-renown for eg Michelle Shocked & Nick Drake.
Adult pop, from one of the most emotionally literate songwriters around. ~ The Guardian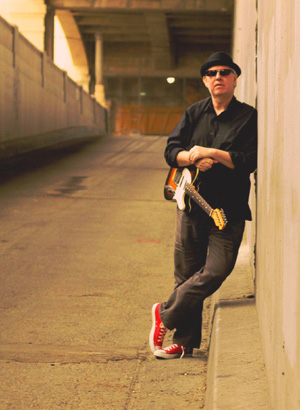 He first attracted attention back in 1980, when his now legendary band Any Trouble burst onto the music scene. Their comeback album Life in Reverse is out now! In 1985, he formed the groundbreaking partnership with Christine Collister and toured with the Richard Thompson Band. He's also toured with Eddi Reader, Boo Hewerdine, Nanci Griffith and Dennis Locorriere. He's one of the most respected songwriters of his time, producing a steady stream of stunning albums throughout his career. Mary Chapin Carpenter named him as one of her favourite songwriters. Melody Maker described Any Trouble, as the most exciting new rock 'n' roll group since The Pretenders and according to Guitar Player, he is one of the 1000 great guitarists.
Artists who have recorded his songs include Fairport Convention, Claire Martin, Norma Waterson and Nanci Griffith, who recorded I Love This Town on her number one chart-topping album. Clive contributed Younger Than That Now to the 2011 CD of cover versions of Bob Dylan songs.
A powerful and vital force in contemporary music ~ Folk Roots
His most recent project is The 3-Boxes is an acoustic guitar trio featuring old pals Clive, Mark Griffiths and Andy Roberts, playing original instrumental music. Their debut CD Strings Attached is now out.
Marvellous voice...brilliant guitar playing. ~ Dirty Linen
However it's his engaging solo performances that always entertain, with great songs and fun stories of life on the road and all done with his own styling, the soft-breathy-engaging voice backed up by some awesome guitar picking. As a friend said to me after his last gig: you realise after a couple of songs, when your ears attune to his voice that he is quite fantastic, he seems to do it every time.
clivegregson.com
Video above not working? Click here or here for YouTube link