Simon Adcock (Piano, Theremin)
Jake Wittlin (Turntables)
Rob Childs (Bass)
Sam Muscat (Drums)
Lund Quartet are an instrumental band from Bristol. Five years in the making, their unique approach to music blends the space of the Scandinavian Jazz scene with the creative opportunities of subtle turntablism. These highly skilled players seek a careful balance between precision and improvisation, combining the power of a jazz piano trio with the solo recordings of specially recorded performances of local musicians, both straight and scratched.
Hypnotising, entrancing jazz tinged with hip hop and electronica Ė ideal for dark evenings and a glass of something strong. ~ Meme Magazine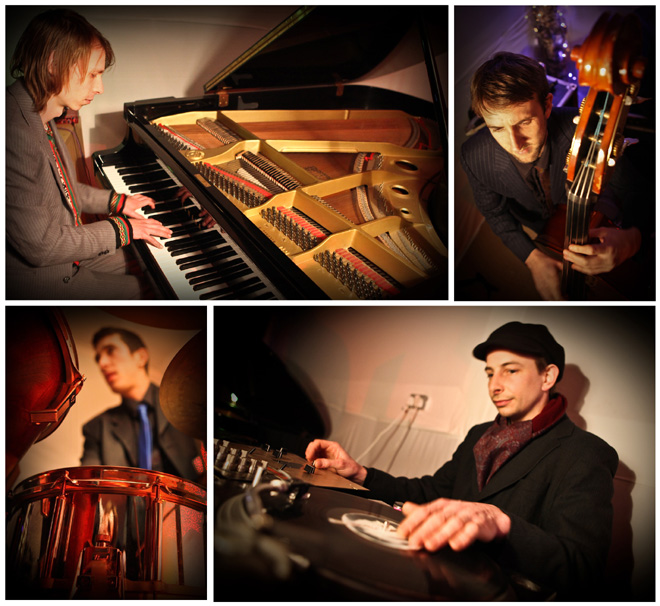 Lund Quartet consist of the self-taught Simon Adcock on piano and Theremin, hip hop producer Jake Wittlin on turntable, and the dub, Ska and drum Ďní bass influenced Rob Childs and Sam Muscat on double bass and drums. In 2010, they decided to dedicate themselves to the Lund Quartet by renting out an industrial unit in a car mechanicís yard and building their own studio, with materials and equipment scavenged from skips and willing friends. This ability to build from the most diverse of sources is at the heart of the Lund Quartet manifesto.
If this is jazz, itís de-cluttered, minimal and atmospheric, with an Enoesque approach to melody. ~ Wire Magazine
Lund Quartet have a secret weapon: discretion. ~ Q Magazine
At ease with technology, their compositions often form around the recording of a hypnotic groove, then inviting someone to play over it. This is then chopped up, sampled and replayed through the turntable. Add a rhythmic pulse of the double bass. A train-track drum pattern and an emotional sweep of piano keys; gloriously plaintive Afro horns, distorted and scratched, and you have LUND
Evocative, delectable mix of mellowness, grooves, and sheer enjoyable musicianship. ~ Access All Areas
Already making radio waves from Gilles Peterson on Radio 1 to Radio 3ís Late Junction, Lund Quartet are taking their sound to a wider world of jazz, hip hop and electronica.
You think you know what it's all about, and then they do something entirely different. ~ Richard Pitt, BBC Introducing
Check out some of the great album reviews at lundquartet.com/press-reviews
Video above not working? Click here or here for YouTube link