Oli Rockberger (USA / UK)
Oli Rockberger (piano)
Michael Janisch (bass)
Jordan Perlson (drums)
Whether you first discover singer/songwriter and pianist Oli Rockberger through his work as a solo artist, producer/arranger, studio keys sideman, or as 1/3 of acclaimed band/production team Mister Barrington, you will be sure to find a distinctive musical voice running through the rich and varied work he does.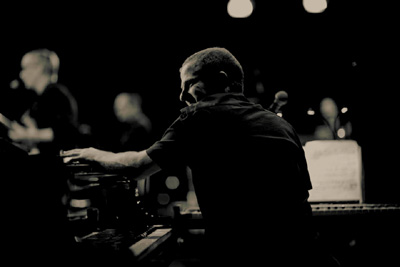 London born NY based Rockberger has appeared live/on recordings alongside Randy Brecker, Levon Helm, Gloria Gaynor, Jesse Harris, John Mayer, Steve Jordan, Chris "Daddy" Dave with Robert Glasper and Derrick Hodge, Nathan East, Jackie De Shannon, Steve Gadd and Les McCann. His songs have been covered by a diverse group of artists which includes two time BBC Jazz Award- winning vocalist/pianist Liane Carroll, US Soul Train Award winner Nicole Henry, Columbia recording artist Marc Sway, legendary David Letterman show bassist Will Lee, and multi-grammy winning trumpeter/composer Randy Brecker (with whom he has also appeared at NYC's famed Blue Note and toured internationally).
In 2013, Rockberger released his sophomore solo album "Old Habits", co-produced alongside Chris Abell (Yo Yo Ma, Chris Thile) which was described by London Jazz as a "monument to be relished in the border territory of jazz and pop" and was also named Jazz FM's album of the week (Feb '13), culminating in appearances at the UK's prestigious London Jazz and Love Supreme Festival.
Current work includes co-producing forthcoming albums by UK born US based song stylists Cariad Harmon and Alex Berger, preparing to release the 3rd studio album with his collaborative trio Mister Barrington, in addition to work on a new solo EP.
Review of Oli's album Old Habits by Matthew Wright
for London Jazz News:
Since winning a scholarship to the Berklee School of Music in 1999, Londoner Oli Rockberger has been building a career of kaleidoscopic talent to support, in a range of senses, his solo career. He's a highly regarded keys sideman and singer with some of the most interesting acts around, from jazz (Les McCann and Charlie Hunter), rock (Levon Helm and Jackie DeShannon), and hip-hop (Common and Queen Latifah). The musicians Rockberger lists as major influences - Stevie Wonder, Keith Jarrett and James Brown - give further evidence of his eclecticism.
Perhaps the most telling guide to Rockberger's musical character is his collaborations with the versatile - and very distinguished - Randy Brecker and Jesse Harris. Like Rockberger, they range across the boundaries of jazz/rock/folk/pop, collecting musical ideas that they blend into an idiom all of their own. He's also the keyboard player in the electronic trio Mister Barrington, and in his remaining time, writes, produces and arranges. The range of Rockberger's playing all comes through in his solo work. He's been gradually building a solo career in New York - his first solo album Hush Now was well received in 2005 - alongside other projects. It's not surprising, given the extent of his commitments elsewhere that this second album, Old Habits, released on Oli Road Records has been some time coming.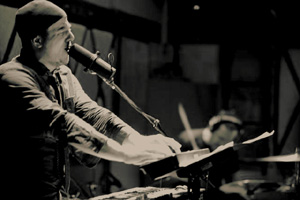 Old Habits escapes easy categorisation, as you'd expect from an artist of his pedigree. Rockberger occupies a fertile crossover space in which the emotional directness of pop, the compelling rhythms of R&B, and the wit and fresh instrumental juxtapositions of jazz combine into a deceptively complex and tantalising experience. There are enjoyable, lyrical balladic melodies aplenty, but there are also darker layers to discover beneath. Rockberger's tenor voice, light but with a soft rasp, suggesting both sensitivity and distress, is the perfect vehicle for his wittily wistful lyrics. There's lovely allusive wordplay in 'Queen of Evasion' and 'Never Grow Old' in which rhymes on the key words 'evasion' and 'old' echo through the song. 'Never Grow Old' features a children's choir singing 'never grow up/old', in a simple, but poignant juxtaposition.
It takes several hearings to appreciate the subtlety and intelligence of Rockberger's arrangements. His instrumentation is sophisticated, inventive and eclectic. There's no shortage of jazz-tinged pop on the airwaves, promising something different, but delivering an over-familiar ballad formula, in which the lightest of jazz flavourings is like the sprig of parsley on a gristly slab of meat. Rockberger, though always enjoyable, is a much more original proposition. The gentle trajectory of his solo career has allowed him to steep his talent in a fruitful range of mature musical personalities, without the pressure to record until he's ready. This album is worth the wait: lyrical, melancholic, and for the most part exquisitely crafted, it's a monument to be relished in the border territory of jazz and pop.
Oli can conjure up echoes of Randy Newman, Todd Rundgren and Peter Gabriel yet still inhabit a sound world all of his own ~ Jazzwise (UK)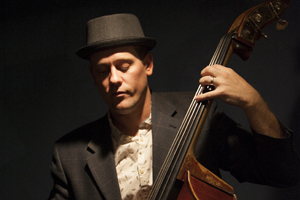 Michael Janisch is now pretty well known to most UK audiences for his rock solid and inventive bass playing, and since moving to London he has established a major roster of the best young UK jazz performers and writers, with top US names on his burgeoning record label "Whirlwind".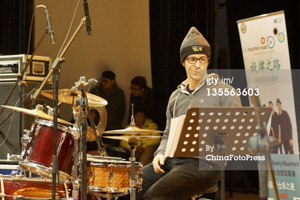 Jordan Perlson, having studied drumming with the legendary Joe Morrello (Dave Brubeck) at the age of 17 has played with most of the elite jazzers in America. Without listing them all he currently works with David Liebman, Gary Burton, Chris Potter, Donny McCaslin, Brad Shepik and Chris Cheek.
Oli Rockberger will be playing at the 606 in London on the 15th December and with us in Bristol the night before on Sunday the 14th. olirockberger.com/

Listen to Oli's album tracks on Bandcamp at olirockberger.bandcamp.com/
Video above not working? Click here for YouTube link