Andy Sheppard's "Hotel Bristol"
Andy Sheppard (Saxes)
Denny Ilett (Guitar)
Percy Pursglove (Bass & Tpt)
Dylan Howe (Drums)
Andy Sheppard is Bristol's adopted son and in a career spanning over four decades he's become a truly accomplished World Class Saxophonist. Originally from Salisbury, Andy made his home in Bristol in the early 80s following a stint living and working in Paris. His rise to become an Internationally renowned artist came through hard work, intelligently composing music that developed themes around groove based material, and a self-taught saxophone style that is unique and recognisable the world over.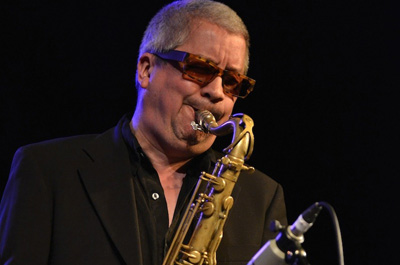 Collaborative work with some of the world's finest performers only enhanced his growing reputation for imaginative improvisation and a rare beauty in delivery. A diverse bunch, all adding a new experience for both parties: the big band orchestras of Gil Evans & George Russell, classical musicians John Harle, Nigel Kennedy and most recently pianist Joanna McGregor, World musicians Brazilian Nana Vasconcelos, Baaba Maal Fela Kuti, Indian violinist Ravi Shankar and folk and rock musicians Elvis Costello, John Martyn & Kathryn Tickell.
Andy formed this band with Denny Ilett in Bristol so as to have a Bristol based band to take to the Tbilisi International Jazz Festival in Georgia as part of an exchange programme with Bristol International Jazz & Blues Festival. This concert was a resounding success and the band has gone on to play many storming gigs in an around Sheppard's home city. Hotel Bristol also headlined at London Canary Wharf Festival in the summer 2014 (another successful big stage outing).
A kicking groove-orientated band playing all original music bursting with melody and high energy improvisations, straight out of the Scofield / Lovano legacy.
I specifically wrote over an hour of new music for this line up with the special talents of the individual musicians in mind (Percy's trumpet playing is our secret weapon!) I love playing with this exciting band – the perfect foil to my ECM Quartet. ~ Andy Sheppard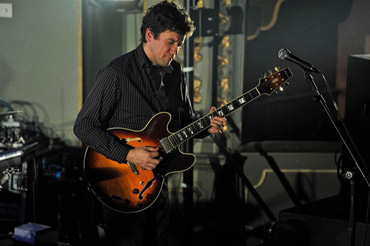 Denny Ilett (co-founder) – who also writes for the band – is a rare commodity – a virtuoso British guitarist and a talented writer/arranger, who has honed his chops not on the UK scene but rather by playing and touring with some of New Orleans finest including Lillian Boutte and members of such notable bands as The Meters, Dr John and the Harry Connick Jnr Big Band. As a guitarist, Ilett's influences are diverse. Elements of T-Bone, Django, Wes, Scofield even a bit of Jimi, but ultimately he sounds like none of them in particular, preferring to tread his own path.
Denny also works as regular guitarist for saxophonist Pee Wee Ellis who, along with Maceo Parker and Fred Wesley made up the JB's, James Brown's horn section. Denny has performed at many festivals in the UK and Europe as part of Pee Wee's troupe. For the past 2 years Denny has been collaborating with Adrian Utley (from the group Portishead), Will Gregory (from Goldfrapp) and Charles Hazelwood (BBC concert orchestra) on a new score to accompany the 1928 classic silent movie The Passion of Joan of Arc. He is also the artistic director for the Bristol Jazz & Blues festival.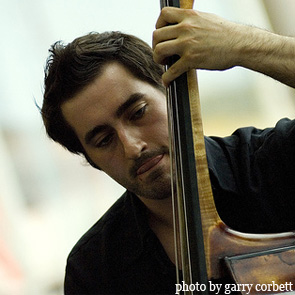 Percy Pursglove (Bass & Trumpet) graduated from the Birmingham Conservatoire's BMus (Hons) Jazz course with first class honours in 2003, Percy obtained a scholarship to study on the Jazz and Contemporary Music Program at the New School University, New York City. During his stay in New York he performed with a great variety of jazz ensembles, including The Ellington Orchestra at Birdland, the Coltrane Ensemble at Sweet Rhythm, The Rene Marie Big Band at Town Hall, and The Knitting Factory with Jesse Elder, Matt Brewer and Tommy Crane.
Having returned from New York in 2005, Percy is now working as a freelance Jazz musician, composer, arranger and recording artist on Trumpet, Double Bass and Cajon. He also lectures in Jazz at the Birmingham Conservatoire, and directs the National Youth Jazz Orchestra of Wales, tutor for the National Youth Jazz Orchestra of Scotland and educator for National Youth Jazz Collective. Percy also regularly provides clinics for Jazz improvisation at various levels throughout the UK and Europe. Most recently, Percy has formed his own ensembles and projects; worked closely with drummer Andrew Bain; formed several international collaborations featuring New York based saxophonist Jon Irabagon and trumpeter Peter Evans. Some of the most recent ensembles Percy has performed and recorded with include …Paul Dunmall, Jamie Cullum, Hans Koller, Mark Lockheart, Tommy Smith, Stan Sulzman, Jean Toussaint, Guy Barker, Mark Nightingale, & Alan Barnes.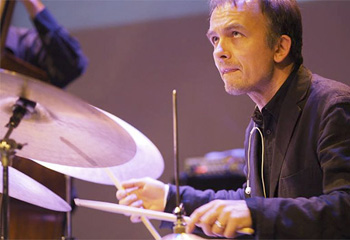 Dylan Howe (drums) is an acclaimed drummer and bandleader, whose versatility and swing has led him to work in many genres and formats for the past 25 years. Best known for leading his quintet and other jazz groups since 2002 and his tenures with Ian Dury and the Blockheads (1997-2010), Steve Howe and Wilko Johnson (2010-2013), coupled with extensive session work since 1990, playing with Nick Cave, Damon Albarn, Ray Davies, Paul McCartney, David Gilmour, Beth Gibbons, Gabrielle and Hugh Cornwell amongst many others. Most recently Howe has been touring his highly acclaimed Subterraneans project, with Andy Sheppard as special guest for the live shows.
Howe, always inspiring and invigorating in any genre. ~ The Guardian
A superb player. ~ The Observer
andysheppard.co.uk
Video above not working? Click here for YouTube link