Ant Law (guitar)
Ivo Neame (piano)
Tom Farmer (bass)
James Maddren (drums)
Guitarist Ant Law was a scholar at both Edinburgh University and Berklee College of Music (USA) until moving to London in 2008. He then picked up work with artists such as Tim Garland, Mica Paris, Gwilym Simcock, Leon Ware, Asaf Sirkis, Koby Israelite, Camille O'Sullivan, Eileen Hunter, and members of Incognito and Level 42.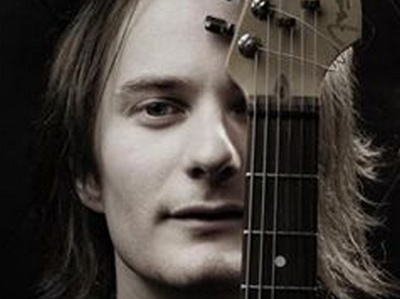 Ant's debut album Entanglement was released on the 33Jazz record label in February 2013 to great critical acclaim, and the band then completed a 29-date UK tour, with support from Jazz Services. Ant completed the second volume of compositions whilst on tour in Brazil this summer.
Ant toured Europe and the UK with Camille O'Sullivan throughout the rest of 2014. Ant was delighted to be asked by Tim Garland to join a multitude of esteemed musicians including John Pattituci, Jason Rebello, Geoff Keezer, Asaf Sirkis, Kevin Glasgow, John Turville and The Royal Northern Sinfonia Strings on his new double CD entitled Songs To The North Sky, out on Edition Records.
Zero Sum World is the second solo release from Ant Law and his first for Whirlwind Recordings. A resident in London since 2008, Law is known as an innovator and a pioneer in the 'Perfect Fourths' tuning system for guitarists. He is a published author on the subject and his book 3rd Millennium Guitar is currently available from Mel Bay. The music on his new release was recorded immediately after an extensive 29 date UK tour and a brief sojourn to Brazil where Law finished the writing in two parts. After returning to the UK, he and his band received support from the Jazz Services touring scheme and embarked on yet another large tour (this time 27-dates) around the UK and went straight into the studio? to record?.
The title comes from the "Zero Sum Game" in mathematics (Law himself was a scholar in Physics at Edinburgh University), which is when the total number of points belonging to the winner added to that of the loser equals zero. As such, in a Zero Sum World no one can profit without someone else's loss.
....Lean, purposeful…ambitious, engrossing guitar jazz. ~ Guitarist Magazine
....guitarist Ant Law, whose fret board manoeuvres effected an almost uniform raising of audience eyebrows ~ The Herald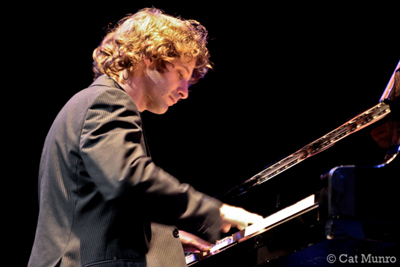 Ivo Neame is a forward thinking and innovative pianist, composer and multi-instrumentalist. As a musician of exceptional ability, Neame is developing a reputation as one of the most exciting and original pianists to emerge in some time. Well known as the pianist with Phronesis and with Norwegian saxophonist Marius Neset, his most recent release Yatra saw him reach new heights as a composer leading an octet in a set of exuberant and creative originals. Ivo studied at the Royal Academy of Music, and since leaving in 2003 he has gone on to perform and record with highly esteemed musicians at home and abroad such as David Binney, Kenny Wheeler and Hermeto Pascoal. He has also played on more than 40 albums as a sideman and a leader.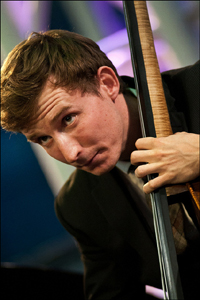 Tom Farmer gravitated towards the bass in his teens, and the instrument has taken him to some great heights. He has been a prominent figure in several well established groups, including the National Youth Jazz Orchestra, Empirical, the Heritage Orchestra, Tomorrow's Warriors. He also studied under John Pattituci, Rufus Reid, Mike Gibbs, Kenny Wheeler and Branford Marsalis and performed with Martin Speake, Brian Abrahams, Brian Edwards, Martin Hathaway, Shabaka Hutching's Splay and Femi Temowo.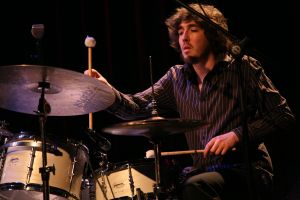 James Maddren is quickly becoming something of an inescapable presence on the scene, and can always be relied upon to provide a rock-solid backdrop for whichever group he plays with. He is well known for his versatility and ability, and has performed regularly with the likes of Gwilym Simcock, Kit Downes, Marc Copland/Stan Sulzman, Mark McKnight, Ivo Neame, Phil Donkin, Martin Speake, Phronesis, Trish Clowes and many more.
Bustling power, judiciously harnessed with elegance and poise…bright, punchy and memorable. ~ London Jazz News
Exceptional musicianship ~ Record Collector
An exciting band to hear live. ~ John Fordham, The Guardian
Law has established himself as a standout new talent with an unorthodox yet original guitar approach as well as one of the UK's noteworthy new composers. He makes regular trips to New York to study with his heroes Ben Monder, Lage Lund, and significantly Ari Hoenig, with their collective influences audible in his music.
antlaw.co.uk/