Gilad Atzmon & the Orient House Ensemble
Gilad Atzmon (Saxes, Clarinet, Accordion)
Frank Harrison (piano & keys)
Yaron Stavi (bass)
Chris Higginbottom (drums)
Atzmon is a multi-instrumentalist; he plays saxophones, clarinet and ethnic woodwind instruments, as well as accordion and practically any other bit of kit he can get his hands on. Moving to the UK from Israel in 1994, settling in London, he started afresh with music as his torch and his awesome sax sound as his calling card. It was not long before opportunities arose for him to play with other jazz musicians and soon gained professional work enlisted by the likes of Memphis Slim, Gail Thompson and Kenwood Dennard.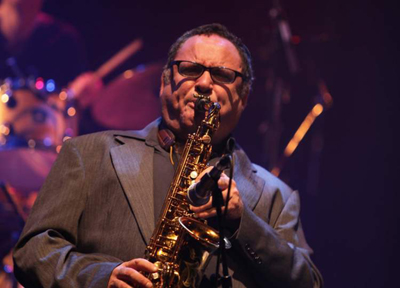 During this period it rekindled his interest in the music of home - the Middle East, North Africa and Eastern Europe. Ideas he worked on to incorporate these musical themes would simmer and grow over the coming years, looking for a sound. In 1996 he was inducted into the ranks of an icon from the punk world, Ian Dury, joining Dury and The Blockheads with whom he toured and recorded for the last few years of Dury's life. He continues to play with The Blockheads to this day. Other work with rock and pop artists have included; Sir Paul McCartney, Sinead O'Connor, The Waterboys and even Robbie Williams!
Gilad has also recorded and produced for Robert Wyatt, and in 2014 he recorded with Pink Floyd and is featured on their new album The Endless River.
In 2000 Gilad founded the Orient House Ensemble (OHE) in London and started re-defining his own roots in the light of his emerging ethical awareness. He found that sound he had been looking for. Over the years Gilad Atzmon's music has moved increasingly toward a cultural hybrid. As a bandleader and reed specialist, he has been amazing his listeners with his powerful personal style that combines great bebop artistry and Middle-Eastern roots in a sophisticated, sometimes ironical manner. Influenced by Coltrane's powerful approach on the sax, Gilad's live performances are simply breathtaking and overwhelming. His album Exile was the BBC jazz album of the year in 2003. He was described by John Lewis at the Guardian as the "hardest-gigging man in British jazz". Atzmon tours extensively around the world. His albums, of which he has recorded fifteen to date, often explore political themes and the music of the Middle East.
Gilad Atzmon, the expat Israeli saxophonist/clarinettist, combines thrilling jazz musicianship with a maverick political intelligence. ~ The Guardian ***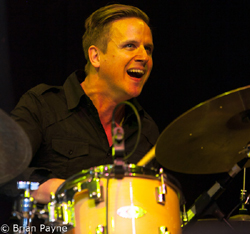 The OHE has developed over the years and has always included fantastic musicians; this line-up is no different with new drummer Chris Higginbottom joining long term members, Harrison and Stavi. Chris is currently a member of the Ronnie Scott's All-stars big band. A Royal Academy of Music graduate, Chris lived in New York for eight years where he played with many of the biggest names in jazz including Mark Murphy and Seamus Blake. Since relocating to London in 2010 Chris also performs and tours regularly with Kyle Eastwood, as well as work with Georgie Fame and Carleen Anderson.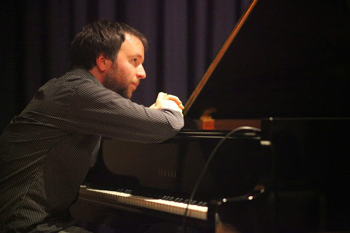 Frank Harrison has grown into a pretty special pianist with a rare touch, even alongside the boisterous Atzmon. Frank used musical muscle to hold his own with Gilad and is the only other original member apart from the head honcho. Returning to the UK from Berklee in the States in 2000 he joined Gilad's band which soon became the OHE. Since then he has been a stalwart, recording on all OHE albums. Frank also has his own trio, which also recorded twice gaining much press praise. He has also performed with Peter King, Julian Arguelles, Bobby Wellins, Julian Siegel, Don Weller, John Etheridge, Louis Stewart and Iain Ballamy.
His talent shines among his peers. ~ Julian Joseph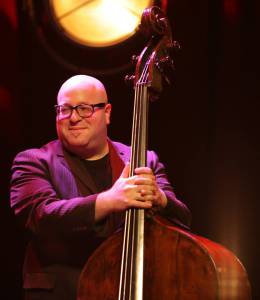 Yaron Stavi knew Gilad in Israel and joined him in the bands Spiel and Spiel Acid Jazz. Born in Tel Aviv; aged 21 Yaron moved to Berlin where he trained in classical double bass at the Berlin Academy of Arts with Rainer Zepperitz, (former principal bass player of the Berlin Philharmonic). Yaron became principal in the Gustav Mahler Youth Orchestra and the Jeunesses Musicales World Orchestra, playing under Seiji Ozawa, Pierre Boulez, Sir Neville Mariner and others. In 2002 Yaron moved to London and joined the OHE. Yaron has also performed with artists; Peter King, Larry Coryell, Gary Husband, Gene Calderazzo, and Stephen Keogh. Since meeting him at a festival in Switzerland in 1997, he has played with violinist Nigel Kennedy, both as a member of the Nigel Kennedy Jazz Group and in festivals in the UK. He played also on Robert Wyatt's 2003 album Cuckooland and 2007 album Comicopera and in 2003 recorded two albums for John Zorn's label Tzadik with Koby Israelite. Today Yaron still crosses the Classical/Jazz divide with equal aplomb, a rock solid and swinging bass player as you will ever come across, with an instrument tonality to die for. gilad.co.uk
One of the finest alto players around, Gilad pays his respects to Bird ...It's striking how similar Gilad's sweet, open-throated sound is to Parker's. ~ BBC Music Magazine
Video above not working? Click here for YouTube link