Alan Barnes and David Newton
Alan Barnes (Saxes & Clarinet)
David Newton (Piano)
Tom & Jerry, Morecombe & Wise, Blackberry & Apple (not the phones of course). Some things go together well and I would add to that list the unmissable pairing of Barnes & Newton.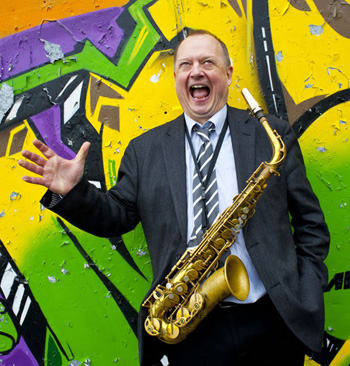 Alan Barnes was born in Altrincham, Cheshire. In 1980 he moved to London, playing with the Midnight Follies Orchestra and the following year was with the Pasadena Roof Orchestra, touring Europe until 1983. In that year he left to join the hard bop band of Tommy Chase where he attracted considerable attention on the UK jazz scene for the first time. He left Chase in 1986 to co-lead The Jazz Renegades with rock drummer Steve White travelling as far afield as Japan and recording four well received albums. In 1988, in a chance encounter on a plane, Humphrey Lyttleton invited Alan to join his band, replacing Bruce Turner who was leaving after 18 years. 1987-97, he also ran the Pizza Express Modern Jazz Sextet with young modernists Gerard Presencer and Dave O'Higgins.
Since leaving Humph in 1993, Alan has concentrated on his freelance career. As a sideman, he broadcast regularly over a ten-year period with the BBC Big Band, Radio Orchestra and Concert Orchestra and has toured and recorded with big band leaders Dick Walter, Kenny Baker, Bob Wilber, Mike Westbrook, Don Weller, Stan Tracey and John Dankworth. Other bands he has toured and recorded with include the Tina May Trio, Clark Tracey and David Newton's "Bootleg Eric" and a sextet with Don Weller playing the music of Cannonball Adderley. Alan has also toured the U.K. with American stars; Warren Vache, Scott Hamilton, Ken Peplowski and Freddie Hubbard.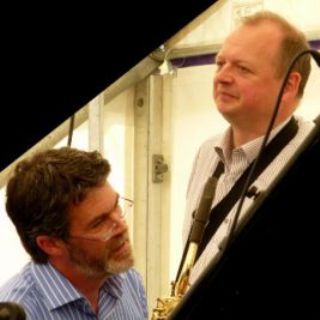 Alan has long associations with pianist David Newton, going back to their college days, and with blistering be-bop trumpeter Bruce Adams, with whom he has co-led a quintet since the early nineties. He has appeared as a session musician on albums by Selina Jones, Bjork, Bryan Ferry, Michel Le Grande, Van Morrison, Clare Teale, Westlife and Jamie CullumM and can be found on film and television soundtracks including "Chicago" and jingles such as the Tetley Bitter series of advertisements which featured his solo baritone.
Alan has appeared regularly for five years as a member of the Laurie Holloway Orchestra on TV's Michael Parkinson Show. Over the years, Alan has won many British Jazz Awards in the alto, baritone, clarinet and arranging categories. In 2001 and 2006 he received the prestigious BBC Jazz Instrumentalist of the Year award and in 2003 was made a fellow of the Leeds College of Music. 2003 was also the year that saw the inception of Alan's own record label Woodville Records. He has produced over 40 CDs including ones playing with Scott Hamilton, Warren Vache, Ken Peplowski, Harry Allen, David Newton, Bruce Adams and, Martin Taylor.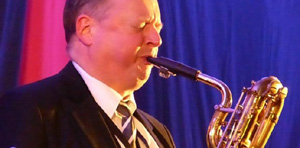 Latest projects include The Liquorice-stick All-sorts with Jim Hart on vibes and Paul Clarvis on drums, an all-star octet playing the music of Duke Ellington, duo recording with Martin Taylor and David Newton, an album of Art Pepper's music, Arnie Somogyi's "Scenes in The City" featuring the music of Charles Mingus, and a new quintet with Tony Kofi. Alan also recently featured on the Bryan Ferry "Jazz Age" recording and Great Gatsby soundtrack. He has recently been touring with Paloma Faith and the Guy Barker Orchestra, as well as fulfilling his own busy freelance schedule.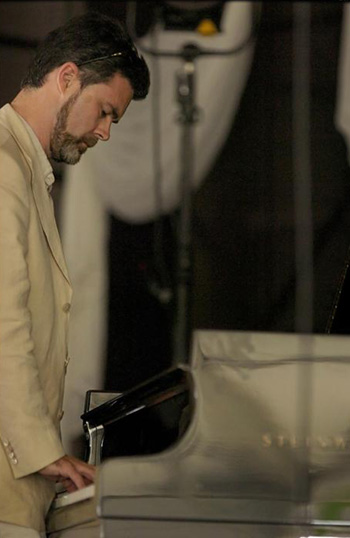 Growing up in Renfrewshire, Scotland, David Newton had a musical upbringing with the piano trio sound of Peterson, Tatum or Garner an ever-present feature in the Newton household. After graduating from Leeds College of Music in 1979 he freelanced around. A move to Edinburgh followed where theatre work using local musicians quickly led to an established position on the Scottish jazz scene but after some four years there, his old roommate from college, Alan Barnes, persuaded him to move to London where he rapidly became a much sought after pianist teaming up with Barnes, guitarist Martin Taylor and saxophonist Don Weller. Newton's recording career had begun in 1985 with Buddy De Franco and Martin Taylor and his first solo album was released in '88 in association with producer Elliot Meadow who oversaw the next nine years of recording for Linn Records followed by Candid Records.
In the first five years of the nineties, Newton's reputation as an exquisite accompanist for a singer, spread rather rapidly and by '95 he was regularly working with Carol Kidd, Marion Montgomery, Tina May, Annie Ross, Claire Martin and Stacey Kent, with whom he spent the next ten years recording and travelling all over the world. While all this was going on, Newton was composing music which he would record on his own CDs as well as writing specifically for Martin Taylor, Alan Barnes, Tina May or Claire Martin and Newton's music can now be heard on many television productions, especially in the United States where over twenty TV movies benefit from Newton's haunting themes.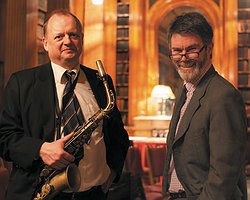 In 2003, after a twenty year gap, David Newton was reunited with playwright Alan Aykbourn having been involved with eight world premiers in Scarborough and London back in the early eighties, and he was asked to write the music for two new productions, 'Sugar Daddies' and 'Drowning on Dry Land'. He is also relishing the musical freedom of his Trio and the special sound it makes whilst working on two other new recording projects, as an arranger and a composer. David Newton was made a Fellow of Leeds College of Music in 2003 and has been voted Best Jazz Pianist in the British Jazz Awards for the THIRTEENTH time in 2014.
When these two come together you know that without fail, you are in for a great evening. Take somebody else's word for it:
Alan Barnes & David Newton, City Halls, Glasgow
It's a sign of just how highly regarded clarinettist/saxophonist Alan Barnes and pianist David Newton are that they managed to attract a full house to the City Halls Recital Rooms on a wet and stormy Sunday night. It was such an impressive turn-out - especially in these straitened times - that Barnes was prompted to comment: "There are quite a lot of you - you do realise it's a jazz concert?"
As ever with the droll saxman, he gave as much value as an entertainer as he did as a musician. Throughout the concert, he provided plenty of laughs - reading out the fanciful preview of the gig that appeared in an Edinburgh paper, introducing the tunes ("This is an original composition - words that strike fear into the hearts of the British jazz-going public.") and reminiscing about the 32-year musical marriage between himself and his vocally silent partner, Newton. That they have been playing duets for a long time explains the rapport that was evident from the first bar of the opening number, a dazzling take on 'You Do Something to Me'.
This pair negotiates changes in time signatures and keys with the greatest of ease and grace; second-guessing each other's thought processes in the same way that an old married couple might finish each other's sentences. One of the evening's highlights was a sublime version of the ballad 'For Heaven's Sake', on which the two musicians gently batted the melody, back and forth between them. Also to relish was the beguiling Billy Strayhorn classic 'Isfahan', featuring a sumptuous solo from Newton, and some majestic, Johnny Hodges-inspired, alto work from Barnes.
~ by ALISON KERR March 10 2009 Star rating: ****
alanbarnesjazz.com
davidnewton.biz