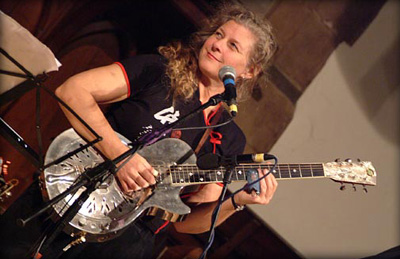 Kristina Olsen is one of the most entertaining and compelling performers on the international acoustic circuit. Kristina is a superb multi-instrumentalist on acoustic guitar, steel-body slide guitar, saxophone, concertina, mandolin and piano. She is also an award-winning songwriter with a big bluesy voice.
Born in San Francisco and raised in Haight-Ashbury during the 1960's, birthplace of America's counter-culture, the Haight was Ground Zero during the summer of 1967, a.k.a."The Summer of Love", baby. Kristina's approach to music and life was formed by that environment of vital cultural expression, social activism and diverse musical influences. She now calls Venice Beach, Los Angeles home but rarely sees it from touring ten months a year.
Her guitar stylings are wide, ranging from delicate, complicated runs to aggressive direct blues runs. She's a sharp guitarist, able to provide herself with both the rhythm and lead pieces she needs to give her songs solid solo support. As a storyteller, Olsen is similarly wonderful; mixing earthy observations about her and those around with the occasional comment about society's various shortcomings. Most of all, though, Olsen is funny, noting those things which innocently point out where she and all of us provide material for comic relief. She's talented, funny, and observant, and consequently she becomes the witty friend who shares her life with you, not preaching to you or insisting on our praise to maintain the friendship. ~ Roots & Reel.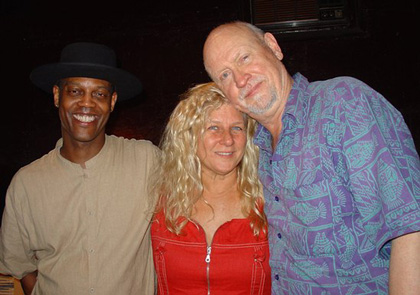 With eleven recordings under her belt she's also turned author with the release of an enhanced eBook, They Paid Us in Tub Time, unusual in being one of the first eBooks with imbedded songs.
Respected artists such as Eric Bibb, Fairport Convention, Maddy Prior, Mary Coughlan and Mollie O'Brien have covered and recorded songs by Kristina. Olsen has also worked as a session musician on numerous artists' albums including playing the hammered dulcimer on Michelle Shocked's album Short Sharp Shocked on PolyGram and touring as Mary Coughlan's guitarist in 2005.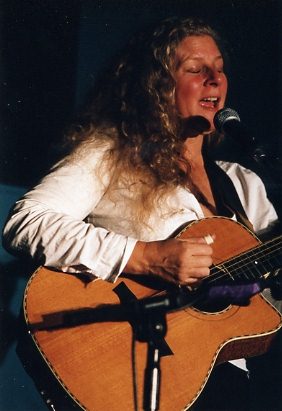 Her song In Your Darkened Room was used in the film "We'll Always Have Dingle", a documentary about an Irish Film Festival. Kristina has also won the prestigious Kerrville Song writing award for her song for battered women, I'm Keeping This Life of Mine. She can also be found teaching songwriting, slide guitar and dance for musicians at adult music camps worldwide; and is a frequent contributor to Acoustic Guitar magazine, writing articles on guitar and performance technique. Kristina has been touring the world for over 35 years and often is accompanied by the beautiful tones of New Zealander Peter Grayling on cello (see video of Darkened room below)
Kristina has audiences around the world coming back for more, with her mix of powerful songs ranging from sassy bottleneck blues to lilting ballads, swing jazz and her speciality "Raunch & Roll"! Her legendary and hilarious storytelling makes for an entertaining musical experience. The storytelling alone is worth the night out!
It is indeed a rare occurrence to be so completely captivated for an entire concert by one person and a guitar, but American singer/songwriter Kristina Olsen certainly managed this and more, delivering a highly entertaining show to a capacity audience for over two hours. From her opening songs I felt that this was a person I had known for much longer, the supreme accolade any storyteller can wish for. The audience loved it, demanding that Olsen return to the stage for three encores. ~ Patrick Shepherd, Christchurch Press, Christchurch, New Zealand
Video#1 Fylde Folk Festival 2010 with Peter Grayling Darkened room
Video#2 The funny, irreverent and the versatile Ms Olsen at a festival in Marr, Australia 2012. With tales of first using a tampon; her brother's early shaving experience and praying to the Gods? Performing The Prayer Flags on guitar and then on Banjo a short Take 5 interlude followed by Banjo in 5/4 time with Danny Hart on violin.
Video above not working? Click here or here for YouTube link
kristinaolsen.net