Huw Warren (Piano)
Dudley Phillips (Bass)
Zoot Warren (Drums)
Trio Brasil are all about re-interpreting familiar and less familiar Brazilian classics by Hermeto Pascoal, Tom Jobin, Joyce, Guinga, Egberto Gismonti, Pixinguinha and more. The rhythmic styles within Brazilian music include; Samba, Baiăo, Forró, Frevo, Maracatu, Choro, all are celebrated with an infectious groove-heavy approach in Trio Brasil's music. Following in the footsteps of his critically acclaimed Hermeto+ recording of 2009 (Basho records), Huw Warren leads this effective trio featuring long time associate Dudley Phillips and his son Zoot.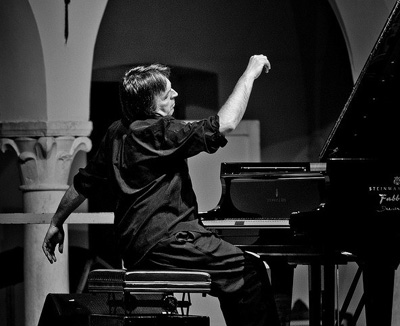 Welsh pianist and composer Huw Warren has achieved an international reputation for innovative and eclectic music making over a twenty year career. Equally at home crossing the often exclusive worlds of Jazz, World and Contemporary music, he has a distinctive and personal piano voice. His compositions move between quirky rhythmic grooves and a simple yet profound melodic beauty; but even at his most experimental his music is always fun and approachable. A uniquely soft toned and understated approach to song accompaniment has led him to perform and record with some of the worlds greatest singers. Currently artist in residence at Brecon Jazz and part of the Jazz department at RWCMD, Cardiff; Huw's latest recording (Quercus with June Tabor and Iain Ballamy) was released in March 2013 on ECM.
His best known projects are: Dialektos (a duo with Italian singer Maria Pia de Vito) Hermeto+ (A reworking of the music of Hermeto Pascoal with drummer Martin France and bassist Peter Herbert), Perfect Houseplants (with Mark Lockheart, Dudley Phillips, Martin France), A Barrel organ Far From Home (a nine piece mixed line up with strings and penny whistle) and a long standing collaboration with singer June Tabor. He has also performed and collaborated with a wide array of musicians including Mark Feldman, Joanna MacGregor, Iain Ballamy, Kenny Wheeler and Jim Black, among many others.
Awarded the BBC Jazz award for Innovation, and the ACW Creative Wales Award, he has also written for many ensembles including Scottish Chamber Orchestra, Welsh Chamber Orchestra, RSC, LPO and Tango Siempre. He is currently artist in residence at Brecon Jazz and part of the Jazz department at RWCMD, Cardiff. Huw's latest recording (Quercus with June Tabor and Iain Ballamy) was released in March 2013 on ECM.
The cascading, long-lined tune of 'Harmonia sem Chronologia', the glowing romanticism of 'Desencontro Certo' and the glittering dance of 'Jegue' are irresistible
~ John Fordham, Guardian
A European stylist of the highest order ~ BBC Music Magazine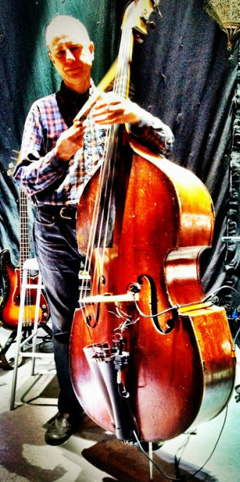 Playing both double and electric bass, Dudley Phillips is a creative musician and composer based in London. Working in the fields of contemporary songwriting, jazz and folk/world music, he plays and records with artists from all over the world, both in the UK and abroad. Among the many different styled artists he has toured and recorded with are Robert Wyatt, Bill Withers, Mark Knopfler, June Tabor, Cedar Walton, Andy Sheppard, Marc Almond, John Harle, Tim Robbins, and Amy Winehouse.
Dudley has contributed to a large body of recorded work, from albums on the legendary Blue Note label to EMI classics, working with many major [and minor!] record labels along the way.
He has one album of his own Life Without Trousers, and has written album tracks for several artists working internationally including Monica Vasconcelos, The Orlando Consort, Perfect Houseplants and Filomena Campus. He's also played on many film and TV scores, and is a visiting performing arts lecturer at Royal Welsh College of Music and Drama, Guildhall School of Music, and Middlesex University, London.
Zoot Warren grew up surrounded by music and remembers developing an interest in the drums early on, after hearing Martin France play. At the age of 11 his parents decided to get him a drum kit and he soon started lessons with local drummer Graham Land. Zoot played in the county and national big bands for many years, in addition to regular jazz trio gigs with his dad. He also went to the Guildhall summer school each year where he was tutored by Brian Abrahams, Trevor Tompkins and Geoff Nicholls, amongst others.
huwwarren.wordpress.com