Mike Westbrook & Company: The Uncommon Orchestra
"A Bigger Show": Music by Mike Westbrook, Words by Kate Westbrook
Kate Westbrook, Martine Waltier (voices)
Billy Bottle (voice & bass guitar)
Roz Harding, Sarah Dean, Alan Wakeman,
Lou Gare, Gary Bayley, Ian Wellens (saxes)
Mike Brewer, Sam Massey (trumpets)
Dave Holdsworth (sousaphone & trumpet)
Andy Dore, Stewart Stunnell,
Joe Carnell,Ken Cassidy (trombones)
Marcus Vergette (bass)
Jesse Molins, Matthew North (guitars)
Theo Goss, Coach York (drums)
Mike Westbrook (piano)
Composer/bandleader Mike Westbrook returns to Bristol with his new 22-piece band; The Uncommon Orchestra and a brand new jazz entertainment.
Mike Westbrook formed his first band while studying painting in Plymouth in 1958, moving to London in the early 1960s. He has led, and composed for, a succession of big bands and small groups, touring extensively throughout Europe, and directed performances of his work with big bands and classical ensembles in Norway, Sweden, Finland, Germany, France, Italy, Slovenia and Switzerland.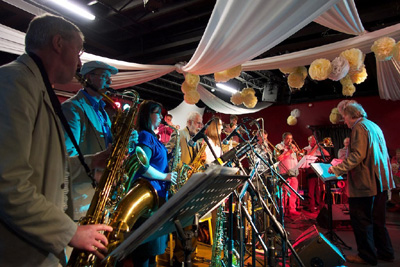 He has broadcast on radio and TV in many countries, and made over 50 albums. Mike was awarded an OBE in 1988, and, in 2004 an Honorary Doctorate of Music by the University of Plymouth.
Mike's many television music credits include the award-winning BBC drama Caught on a Train by Stephen Poliakoff, starring Peggy Ashcroft. His work for the theatre includes Adrian Mitchell's Tyger a celebration of William Blake, staged by the National Theatre in 1971. His opera Coming Through Slaughter based on the novel by Michael Ondaatje about the New Orleans cornettist Buddy Bolden, was premiered in London in a concert version in 1994.
An exhilarating contemporary spin on the big band tradition. ~ The Guardian
Britain's most innovative Big Band leader. ~ The Wire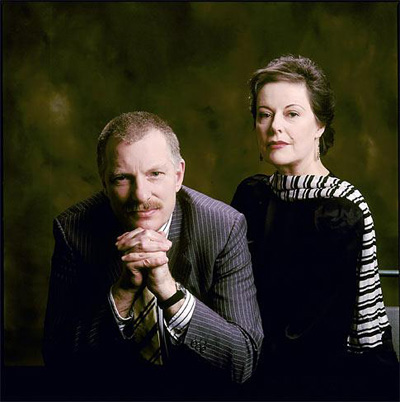 In collaboration with his wife, singer/librettist Kate Westbrook, he has generated a whole series of jazz/cabarets and music-theatre pieces. Mike wrote the music for Kate Westbrook's album The Nijinska Chamber pairing Kate's voice with accordionist Karen Street. The Westbrook's have also created large-scale concert works incorporating settings of European poetry work for voices and jazz orchestra, and for chamber orchestra. The jazz oratorio Turner in Uri, based on the painter JMW Turner's travels in the Swiss Alps, was premiered in Altdorf and Zurich in 2003.
Mike Westbrook's albums for ENJA Records include The Cortege, Bar Utopia, a tribute to the Beatles, Off Abbey Road, and Glad Day settings of William Blake sung by Phil Minton and Kate Westbrook with the Mike Westbrook Brass Band.
Whether he is writing for a trio or a 20 piece orchestra, Westbrook's style is unmistakable. He combines instruments in unique ways, twists conventional jazz forms into surprising new shapes and seasons it all with delicate touches of humour and irony. ~ The Observer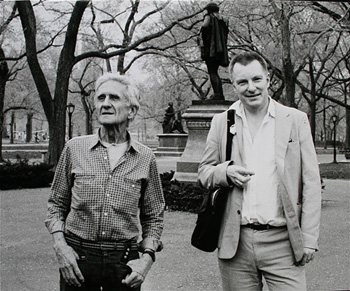 Current projects include the 8-piece Mike Westbrook Band, performing Fine 'n Yellow and The Serpent Hit and the South West based Mike Westbrook Big Band. He works regularly in a Duo with Kate Westbrook and in The Westbrook Trio with Kate and saxophonist Chris Biscoe.
This promises to be a momentous occasion and we hope to find an appropriate venue in which to set the piece. However if we can't find that special place, we will present this from the Hen & Chicken, in a more theatrical setting. A Bigger Show has been described as a Jazz/Rock Oratorio. Kate Westbrook's scenario uses the image of the fairground to examine, with irony, humour and high drama, the lot of Humankind in the age of the World-Wide-Web. Kate is joined by fellow vocalists Martine Waltier and Billy Bottle, while Mike Westbrook & Company brings established Jazz musicians together with lesser known artists, Pop and Rock musicians, Classical players and talented young musicians in a new kind of big band – the Uncommon Orchestra.
Supported by Airshaft Trust
Everything about Westbrook is on a massive scale: the number and variety of groups he has formed, the innumerable projects, his prolific output as a composer, the broad scope and long duration of his various works. Over the years he has developed a great mastery of orchestration and can handle everything from solo instrument to chamber group and very large ensemble. One of his greatest achievements is to have given jazz wider terms of cultural reference (relating it to poetry, theatre, the visual arts and the European classical music tradition) without in any way diminishing its own identity or vitality.
~ The Rough Guide to Jazz
westbrookjazz.co.uk
How to get 22 musicians to do a rehearsal?
Video above not working? Click here for YouTube link