James Partridge (Saxes)
Steve Lands (Trumpet)
Andrew McGowan (Piano)
Jasen Weaver (Bass)
Willie Green III (Drums)
The Session is a modern New Orleans jazz group formed by a collection of jazz young bloods, four of which are from the most noteworthy members of the crescent city's up and coming generation of musicians. All the originals first crossed paths playing as sidemen to some of the city's foremost musical names. On any given night in New Orleans you'll find one, usually more, of the guys playing with names such as Ellis Marsalis, Snarky Puppy, Jason Marsalis, Dr John, Herlin Riley, Shannon Powell and/or the Delfeayo Marsalis big band.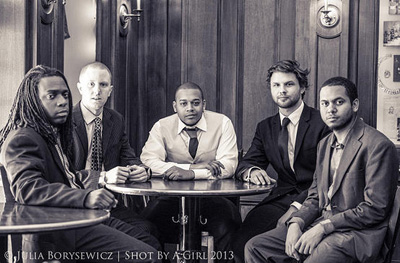 It was a shared desire to learn and attempt to follow in the footsteps of the city's elder statesmen that brought The Session together. The band found its genesis in a weekly late night practice session started in 2010 by Jasen Weaver and Darrian Douglas held at the University of New Orleans to work on concepts and provide an outlet for playing original compositions. James Partridge, who had moved to the city upon graduating from Berklee in 2010, soon joined the practice, having met Darrian and Jasen while sitting in with the Delfaeyo Marsalis' big band the summer before. These practice sessions gradually morphed into a fully formed band, which trumpeter Steven Lands, another member of the big band, and Andrew McGowan, a NOCCA alumni like Weaver, joined later.
In February of 2013 The Session released its debut album, aptly titled This is Who We Are, as it is a culmination of over two years of practicing and gigging together. After an extremely well received performance at the 2013 New Orleans Jazz Festival, the band looks set to begin to turn heads around the jazz world. These guys are the future of modern jazz in New Orleans and across America. They branched out to visit the UK last year and quickly gained a reputation for exciting and entertaining jazz with that mixture of youthful, unrestrained confidence; taking he tradition and moving into the groove based areas of new musics. The result was an infectious sound that captured people's imagination and hearts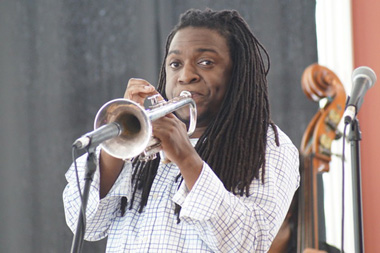 Born in Baton Rouge, Steve Lands began playing music at age nine in his father's church. At high school he studied under New Orleans legendary teacher Alvin Batiste. He attended Louisiana State University, promptly moving to New Orleans to kick start his career, which, on any given night, ranges from jazz to hip-hop, rock, reggae, brass and funk. He's performed with many artists including the Delfaeyo Marsalis big band, Shannon Powell, Snarky Puppy, Ellis Marsalis, Herlin Riley, Erykah Badu, Roy Hargrove and the 'RH Factor' and Original Tuxedo Jazz Band. Steve plays around three times every week in New Orleans with various groups and his own group, The Coastal Effort.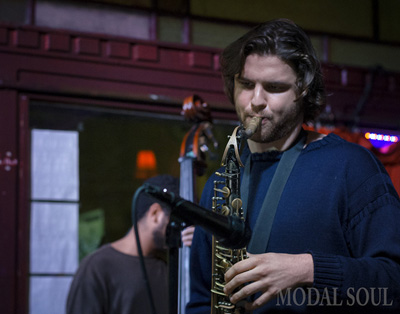 Born in London, England, James Partridge started playing classical clarinet and was a member of the National Youth Wind Orchestra of Great Britain. In school he developed a love of jazz and took up the tenor saxophone aged 17 studying with Tim Whitehead, he soon began to play in Ska, Soul and Jazz bands in venues around London. In 2006, after winning a scholarship to attend the Berklee College of Music in Boston, he left for America to further his Jazz studies. Under the tutelage of Bill Pierce and George Garzone he graduated from Berklee in 2010 with a dual degree in Jazz Composition and Performance. After spending every summer-break working in New Orleans he relocated there after graduation in 2010. He can be seen playing with the likes of Shannon Powell, Donald Harris Jnr, Ellis Marsalis, Jason Marsalis and Irvin Mayfield's New Orleans Jazz Orchestra.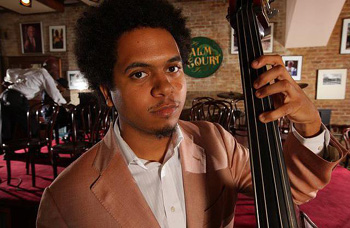 Jasen Kalil Weaver took up the Double Bass at the age of 11 and was quickly accepted into the Greater New Orleans Youth Orchestra and by age 14 was attending the prestigious New Orleans Centre for Creative Arts (NOCCA). Since then he has been privileged to play with many great musicians on the New Orleans jazz scene including Herlin Riley, Wes Anderson, Donald Harrison, Ellis Marsalis, Jason Marsalis, Delfeayo Marsalis, Los Hombres Calientes, Stephanie Jordan and many others. He has also recorded with Dr. John, the New Orleans Jazz Orchestra (feat: Dee Dee Bridgewater), The Session, Cliff Hines, Sasha Masakowski, and saxophonist Stephen Richard. He has performed internationally in the United Kingdom, Japan, Russia, Honduras and Israel.
Jasen graduated from the University of New Orleans in May 2012, as a Jazz Studies major, and is now an active member of the New Orleans music scene. Jazz learning has been more than a hobby: it's been a career for this astounding bassist, whose finesse with an upright is awe-inspiring. He's also contributing to the young, up-and-coming musical force that has blossomed in New Orleans, especially over the past decade.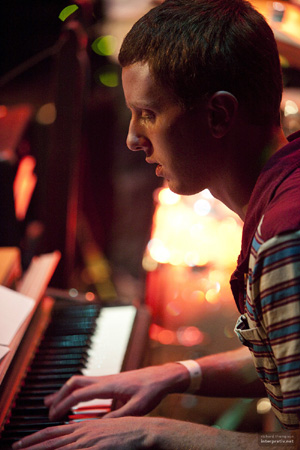 A native of New Orleans, Andrew McGowan took up piano at the early age of four and later in life studied at NOCCA. After completing a BA in Music at Stony Brook in New York; he moved back to New Orleans and now plays there full time and can often be seen with the Stooges Brass Band and the Jason Marsalis Vibraphone Quartet, and frequently tours with the Cliff Hines Quintet amongst others. Andrew is currently working heavily on developing his own trio, but has consistently woken up early every Sunday to play church gigs throughout New Orleans. He's also building a name for himself in the hip-hop community, backing Ciel Rouge and Slangston Hughes. However, he is most at home in the contemporary jazz scene, playing alongside many big local jazz names.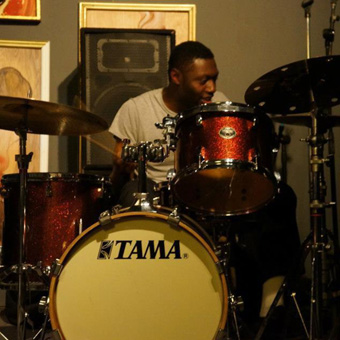 Willie Green III is the fledgling of the band and is a bright new prospect fresh out of music studies, having recently graduated from Loyola University New Orleans.
Few tech problems with the band's website recently but one of these should work:
thesessionmusic.com
thesession1.com
Video above not working? Click here for YouTube link