Kevin Figes (Alto Sax)
Nick Dover (Tenor Sax)
Kathy Jones & Emily Wright (Vocals)
Jim Blomfield (Piano)
Jeff Spencer (Bass)
Mark Whitlam & Lloyd Haines (Drums)
This exciting new project, with double sax and vocals, features brand new compositions by Kevin Figes drawing heavily from the 1970s jazz scene. Influences include Miles Davis, Kenny Wheeler, Soft Machine, David Binney and the whole thing is probably best summed up as Jazz Prog Rock. A new CD is about to be released and pre-release copies will be available on the night.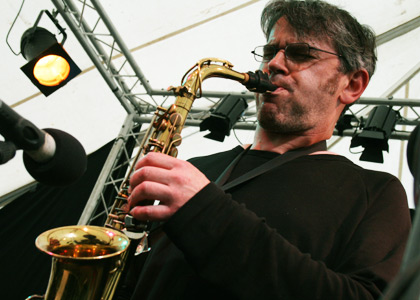 Kevin Figes is a distinctive voice both as a player (Saxophones and flute) and composer on the UK jazz scene. Never standing still, his ethos is to strive to produce new music which is challenging, well-crafted and from the soul. Kevin began studying saxophone with Elton Dean and later attended the Guildhall School of Music and Drama studying with Tim Garland. He composes for his own quartet which has released three CDs: all received much critical acclaim. The Quartet tours the UK regularly, with help from Jazz Services, and has been broadcast several times on Radio 3. He also writes for the 15 piece big band 'Resonation' which features some of the finest musicians from the west and beyond. He has a notable connection with Keith Tippett, performing in his big band "Tapestry" in Portugal and Canada and in his Octet including broadcasts on Radio 3 and a CD release on Ogun.
Kevin has also performed with Dave Stapleton and recorded an album for his label (Edition). More recently he formed the band "4 Sided Triangle" which included guitarist Mike Outram, and their first CD was released on Pig records in July 2012 to excellent reviews and widespread radio play. In 2013 the Quartet undertook a very successful 17 date jazz services tour of the UK to support the release of "Tables and Chairs". 2014 sees the beginning of an exciting new project, an Octet. A new suite of original material will be recorded early in the year, to be supported by live work.
Compelling Bristol-based altoist Figes mixes up old school bop with a contemporary attack and edgy harmony ~ Time Out
Vocals are provide by Emily Wright (Moonlight Saving Time) and Cathy Jones (Balanca) who are tasked with complimenting the front line saxophonists to create Kevin's unique soundscapes.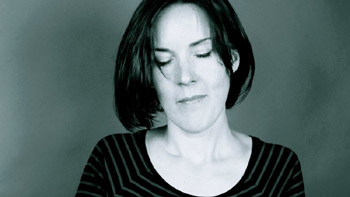 Cathy grew up studying classical piano, violin and viola, playing regularly in orchestras and ensembles throughout her teenage years. A strong interest in rhythm also found her playing percussion and drums, leading her to explore Brazilian and Afro-Cuban Music. This led on to her involvement with the Brazilian Jazz outfit 'Sirius B'. She then went on to form her own bands taking up the role as vocalist. A keen interest in Jazz and improvisation inspired Cathy to study at the Royal Welsh College where she gained a Masters Degree in Jazz Performance. During this time she was able to further develop her interest in using her voice more instrumentally and also to explore jazz harmony and composition. Widely respected for her approach to both Brazilian and Jazz repertoire, Cathy is a well established performer, gigging regularly throughout the Southwest, Wales and beyond.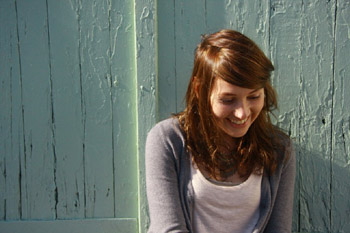 Emily has been the leading light fronting the delightful Moonlight Saving Time. Gilles Peterson said the music blew my mind. Described by Jacqui Dankworth as an amazing singer … one of the young up and coming singers to watch, Emily forged a unique niche in the South West and is now making a big impression on the UK jazz scene. With a strong background in classical music, she is influenced as much by Benjamin Britten as by Ambrose Akinmusire, while her formative years growing up in Bristol developed her love of trip-hop and drum and bass. Drawing on these diverse influences in her choice of repertoire and compositional style, Emily is a refreshingly original performer.
Also doubling up is the drum section with the experienced Mark Whitlam and young gun Lloyd Haines needing to work very intensely, in unison and with great restraint to control rhythm and stay lyrical without overpowering the unit as a whole. A pivotal role for these two.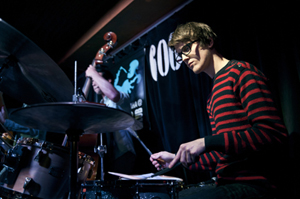 Award winning drummer Lloyd Haines is fresh. The terms 'rising star', 'name to watch out for' and 'new kid on the block' would be equally appropriate, but are becoming well-worn. Lloyd is not. Originally from South Wales he attended the Royal Welsh College of Music and Drama in Cardiff and had some great tutors too – Geoff Simkins, Iain Ballamy, Huw Warren and Martin France. During his time at Cardiff, Lloyd attended the Fondazione Siena Jazz School in Italy, where he played and studied with Eric Harland, Miguel Zenon and Michael Blake and won a scholarship to return again the next year. He was nominated by the College for a Yamaha Scholarship and received his Yamaha award at Westminster. The award included £1,000 which helped him to move to London where he is now based.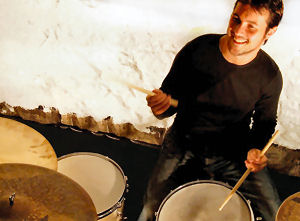 Versatility, creative flair and great feel have established Mark Whitlam as one of the first-call players in the South West. Putting the needs of the music first is at the centre of his approach. Mark is a passionate, authoritative and authentic performer. Mark has performed live and/or recorded with some of the UK's finest jazz musicians, including Jim Mullen (Average White Band), Jason Rebello (Sting, Jeff Beck), ECM artists Andy Sheppard and Iain Ballamy, John Critchinson, Gareth Williams, James Gardiner-Bateman (Paloma Faith), Jake McMurchie (Get The Blessing) and has shared the stage with drummers such as Nasheet Waits and Ian Thomas.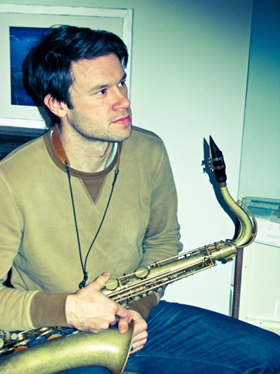 Up front, the saxophone section is also twinned, this time in a more conventional manner with the combination of Alto and Tenor Saxes.
Nick Dover has grown in stature locally and is an ideal foil for Kevin's distinct alto sound. Alto can be a difficult instrument to achieve a quality sound because of the natural pitch of the instrument. Kevin has defined his sound over the years by creating a smooth tonal timbre to his personal voice. Nick can play both powerfully and with deftness. His ability to find and play naturally harmonic, melodic riffs marks his style out and makes him ideal in combinations with many instruments including guitar (Dan Messore), with piano (George Cooper) and vocals within this line-up.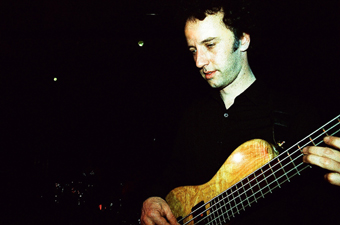 Jeff Spencer anchors the various strands with acoustic double bass and electric. He studied music at Bristol University and emerged as a 'qualified' composer. Jeff has played with Pee Wee Ellis, Fred Wesley, Geoffrey Oryema, Michael Giles (King Crimson), Elliott Randall (guitarist on Reeling in the Years!) John Etheridge, James Morton, Alex Hutchings, Jimmy Goodrich and many others.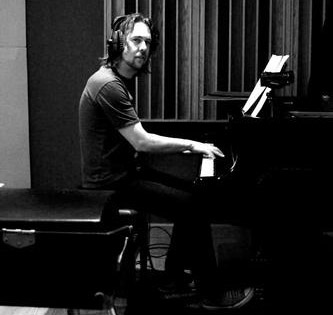 Jim Blomfield – Piano is a gem of a player who has graced Bristol jazz for many years as a stalwart in the groups of Andy Hague and developing his own various projects; from trio to large bands and Latin music. I'm not writing too much about Jim as anyone who knows him, doesn't need more explanation. Technically exceptional with compositional quality to match he's quite simply the best around. The night alone to hear this guy is worth it!
Figes is the real deal ~ Jazzwise