Chris Cheek (Sax)
Barry Green (Piano)
Gerald Cleaver (Drums)
This promises to be one of the gigs of the year with beautifully melodic and lyrical Barry Green's piano sound leading two friends from across the pond; and what friends. Barry first met Gerald Cleaver while in New York some five years ago and they have talked a lot since about working together. Another similar acquaintance is the big sounding saxophonist Chris Cheek and after years of listening to their music with Paul Motian, Charlie Haden, Brad Mehldau, Craig Taborn and Bill Frisell, Barry recorded this unique bass-less trio in a freezing Systems Two studio, Brooklyn in 2014. Barry recorded two trio albums opting for one with Chris Cheek and Gerald Cleaver (called Great News) and the other with Drew Gress and Tom Rainey (called Almost There).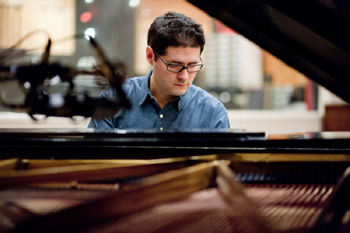 Barry Green studied classical and jazz piano at the Guildhall School of Music and Drama. Some of the other musicians with whom he has performed and recorded with include: Bobby Watson, Perico Sambeat, Charles McPherson, Martin Speake, Bobby Wellins, Ian Shaw, Tina May, Jean Toussaint, Tom Rainey, Marc Miralta, Ingrid Laubrock, Jeff Williams, Stan Sulzmann, Us3, Henry Lowther, and Julian Arguelles.
Moletone Records is Barry's record label. The first release was the trio record The Music of Chance featuring Ben Street and Jeff Williams. This received glowing reviews. It was followed by a duo record with the great bass player Dave Green, Turn Left at Monday, performing rare songs by Alec Wilder and Ornette Coleman. Barry's third release on Moletone records is Babelfish (you put it in your ear!). This project documents an almost 13 year working relationship with vocalist Brigitte Beraha, and features Chris Laurence and Paul Clarvis. Now Barry is expanding to International collaborations with these new recordings.
Green can effortlessly sustain a graceful Bill Evans-like lyrical swing, but also massages the ideas of the others. His contemporary references give him a broad sweep, and he has much to do with this set's freedom from bop-standard rigidities...
~ John Fordham, The Guardian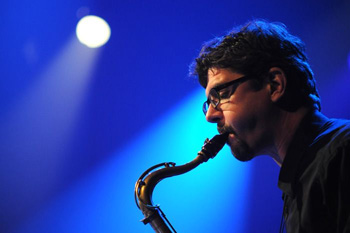 Born in St. Louis, Missouri, Chris Cheek began playing the alto sax at the age of 12. Thanks to a strong public school music program and a highly supportive family. Chris played with a variety of local Jazz and Blues bands including legendary saxophonist Willie Akins' group and the Bob Kuban Brass. Chris went on to Boston in 1988 to attend Berklee College of Music where he studied with Herb Pomeroy, Joe Viola and Hal Crook. He next moved to New York in 1992 and since then has toured and recorded with Paul Motian, Charlie Haden's Liberation Orchestra, The Bloomdaddies, and the Orquestra de Jazz de Matosinhos. Chris has also played with Bill Frisell, Brian Blade, Lee Konitz, Carla Bley, Tom Harrell, Brad Mehldau, Kurt Rosenwinkel, El Muchacho and many others! Cheek also plays with the Brooklyn Boogaloo Blowout, Rudder, Steve Swallow's Quintet, Guillermo Klein's "Los Guachos", and the newly formed Axis Saxophone Quartet, alongside Josh Redman, Chris Potter and Mark Turner. In addition to appearing on numerous CD's as a sideman, Chris has recorded 4 albums as a leader for Fresh Sound Records. He currently resides in Brooklyn, NY.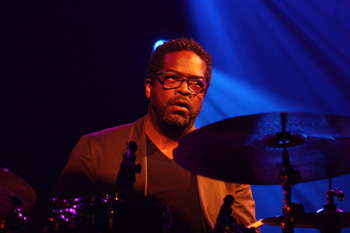 Although jazz drummer Gerald Cleaver has been known in the Detroit area as a great musician and educator since the early '90s, he was not so well-known to listeners outside of the Midwest until an explosion of recordings released starting in 1999 brought his powerful and tasteful drumming to the attention of jazz listeners everywhere. An NEA fellowship allowed Cleaver to study with drummer Victor Lewis (Stan Getz band); then earned a music degree from the University of Michigan. During his years as a student, he had a band with keyboardist Craig Taborn called the Tracey Science Quartet. Splitting time between Detroit and N.Y.C., where he subsequently moved, Cleaver has worked with a long list of great jazz leaders including Roscoe Mitchell (notably on 1999's Nine to Get Ready), Henry Threadgill, French pianist Jacky Terrasson, Hank Jones, Tommy Flanagan, Reggie Workman and Eddie Harris, among others. More recently he can be heard in a number of groups including the Joe Morris Quartet (with releases on Omnitone and Knitting Factory); the Matthew Shipp Quartet (Pastoral Composure); and his own sextet, Gerald Cleaver's Veil of Names, which includes guitarist Ben Monder, violinist/violist Mat Maneri, bassist Reid Anderson, saxophonist Andrew Bishop, and former college collaborator Craig Taborn. He has subsequently worked often with Craig.
Listen to some tracks from the Great News album on Barry's website, the tracks are varied and entertaining and I for one am looking forward to hearing these guys in an intimate setting in Bristol, especially Mr Cheek!!.
moletone.com
Listen to Great News