The Enemy (Kit Downs Trio)
Kit Downes (Piano)
Petter Eldh (Bass)
James Maddren (Drums)
Kit Downes is a phenomenon! One of the most gifted pianist to have emerged in the last fifteen years. When you read this short biography, the sheer amount of work and collaborations he's crammed in to his so far 29 years is amazing.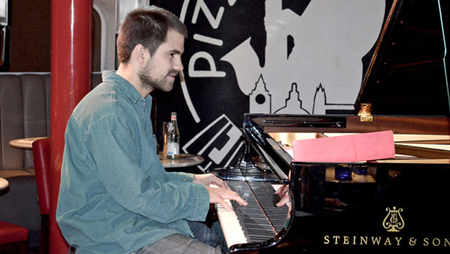 Having studied at both the Purcell School of Music and the Royal Academy of Music (where he is now an Associate), Kit began playing and living in London age 18 - meeting and playing with peers such as James Maddren (who plays in The Enemy), Tom Challenger (who he now plays with in Wedding Music), Chris Montague and Josh Blackmore (who make up Troyka) - as well as elder more established musicians such as Stan Sulzmann (whom Kit still plays with in Stan's band Neon), Seb Rochford and Clark Tracey. Kit performed throughout the UK, Europe and America with many of them (with both Julian Arguelles' group and Empirical touring Canada and America - with Empirical playing at Newport Jazz Festival - the first UK group to do so for a long time), and also guested with some of the leading bands in the UK around this time - Fraud, Acoustic Ladyland and Micachu, as well as playing with some of his heroes - Lee Konitz, Django Bates (in a special commission for Jazz on 3) and Leafcutter John.
Kit has toured with his own groups throughout Germany, Austria, Norway and Italy, and similarly with Troyka, and has also received a BBC Jazz Award for his work with Empirical, a British Jazz Award for his work with his own band and a Mercury Music Award nomination for his Trio album Golden. Kit now tours with his one group Tricko (featuring Kit on piano, Lucy Railton on cello), Troyka, Julian Arguelles' Quartet, Wedding Music (a church organ collaboration with Tom Challenger), Sarah Gillespie, Thomas Stronen and Sylvain Darrifourq. In 2013 he was also nominated in the Rising Star category in Downbeat Magazine. He is currently working with Aldeburgh Music on a residency with Tom Challenger, working on a commission for the Cologne Philharmonie, recording for ECM with Thomas Stronen, teaching at the Purcell School of Music, and helping curate the programme for the South Tirol Jazz Festival.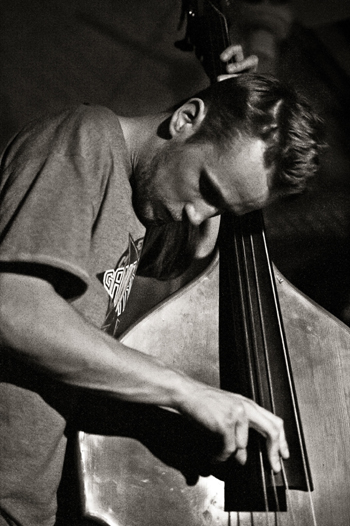 Frans Petter Eldh is a Swedish jazz bassist (born in Gothenburg) who initially worked mainly in Denmark. Since 2009 he lives in Berlin. Bought his first hip hop album when he was nine years old. That was Dr. Dre – The Chronic. Bought his first album with extreme improvisation when he was 13, that was a Charlie Parker compilation. After one week of constantly listening to the multilayered flow of Charlie Parker he went to listen to his first concert with Peter Brötzmann. Those are the three most profound events in Mr Eldh´s way to find his path to become the musician he is today.
Eldh grew up in a family of artists and started to play guitar aged 8 and moved three years later to double bass; at 13 after coming under the spell of the music of he turned to jazz. He has worked since the mid-2000s, among other things with Django Bates (at the Charlie Parker tribute Conformation (2011) he worked), Marc Lohr , Philipp Gropper and in the formations Schneeweiss und Rosenrot and The World. In the field of jazz, he was found on recording sessions, with Marius Neset , Fredrik Kronkvist and Magnus Hjort. He also has recorded albums with People Are Machines and Exile. Since 2011, he also plays in a trio with Wanja Slavin and Christian Lillinger. He is in a long line of comparable Scandinavian bassists who somehow manage to dig out huge resonant sounds from this instrument. Maybe it's that warm, deep soul of the bass that appeals to these folk from cold climes? Whatever it is, long may they continue to come forth and provide us with emotional, creative and artistically advanced music for us to get to grips with.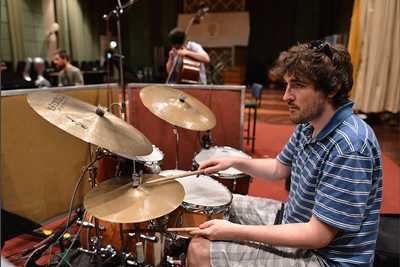 James Maddren (as I continue to wax lyrically about) is quite simply the most gifted UK drummer I've come across. Rarely heard a British based drummer with such deftness of touch and so much musicality. It is frightening and delightful to wonder what he can yet become! James Maddren is London based but started school at Christ's Hospital (Horsham aged 11) performing in many contrasting bands and orchestras. In 2004 while still at school he travelled to London to study with one of Europe's top multi-instrumentalists, Jim Hart, who Maddren cites as a significant early influence and inspiration.
Having left CH in summer 2005, he went on to study jazz percussion at the Royal Academy of Music with Martin France as his drum tutor. Graduating in 2009 with a 1st class degree James was also given The Principal's Award for Outstanding Studentship. Currently one of London's first-call young drummers, he enjoys listening to and performing all kinds of music and has shared the stage with many artists and ensembles, including the Gwilym Simcock and Kit Downes Trio, Marc Copland/Stan Sulzman Quartet, The Mark McKnight Organ Quartet featuring Seamus Blake, Ivo Neame Group, Phil Donkin, Alex Garnett's Bunch of Five, Michael Janisch, Will Vinson, Martin Speake Quartet, Phronesis, Jonathan Bratoeff Quartet, among others.
kitdownes.com
Video above not working? Click here for YouTube link