Pinski Zoo with Wojtek Konikiewicz
Jan Kopinski (Sax)
Wojtek Konikiewicz (Piano/Keys)
Steve Iliffe (Keys)
Stefan Kopinski (Bass)
Karl Bingham (Bass)
Pat Illingworth (Drums)
Pinski Zoo (PZ) were voted Best Small Band at the British International Jazz Awards in Cannes 1991 and in 2011included in The Guardian and Observer's top 100 Jazz recordings in A History of Modern Music. PZ are a truly original contemporary jazz outfit who originated in Nottingham.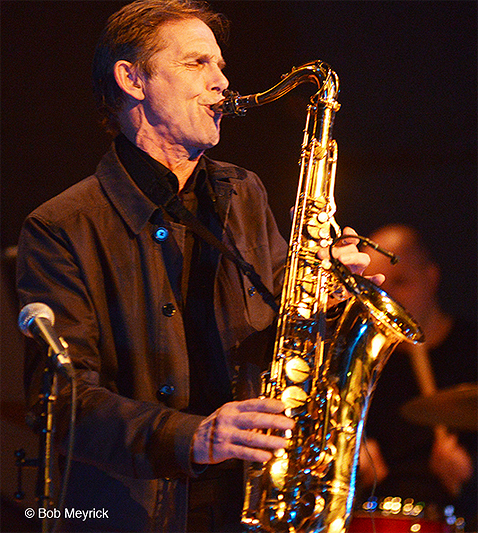 Almost impossible to categorize they swing from virtuosic jazz to gritty funk with freedom and movement, veering into left -field territory and returning with snappy anthem-like tunes. Unpredictable and exciting, they carved a unique style in the UK and won praise from critics at home and abroad. Their eclectic fusion of style foreshadowed the move towards mixing influences in much of today's modern music. With 8 albums and extensive touring in Europe, Poland and New York in the late 80's and 90's; they are now back after several years of individual projects.
Jan felt an endorsement for PZ's style whilst supporting Ornette Coleman and Prime Time and his harmolodic form of jazz, PZ became a dominant force in the jazz fused scene of the late 80's & 90's; recording two more CDs "Rare Breeds" and the highly acclaimed "East Rail East", now with Karl Bingham regularly on bass: Further European tours followed, a stint at New York's Knitting Factory and a British Council tour of Poland.
Pinski Zoo deserves mega-stardom because it not only funked your socks off but foresaw future developments in jazz fusion ~ John Fordham, The Guardian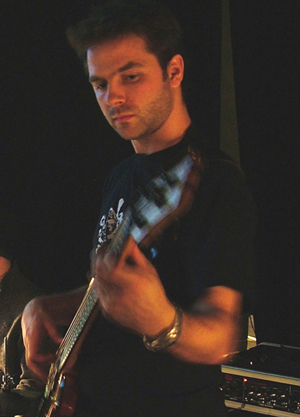 Pinski Zoo continued to play in the late 90's and early 2000 but focussed on a diversity of projects between themselves rather than record as a band. Jan released "Ghost Music" with Steve Iliffe with son Stefan brought into the mix. Pinski Zoo's rhythm section featuring the mighty twin basses are working with renewed vigour, with a new line up featuring the beautifully fleet and groove-some playing of Pat Illingworth on drums, (first heard to great effect on their 2007-2013 UK tours and more recently also with Mirrors).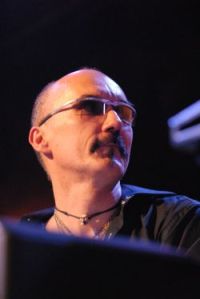 2015 sees more PZ gigs with special guest Wojtek Konikiewicz with whom they first played on their 1985 Polish tours and subsequent album 'Live in Warsaw'. Konikiewicz was born 1956 in Wroclaw, writes and performs jazz, rock, punk-rock, new - wave as well as experimental, electronic (ambient), contemporary classical (chamber, choir etc…) and sacral music. Some of his works reflect deep interest of the composer in ethnic and ancient music, as well. He also writes music for film, ballet, theatre and TV. One of his most interesting interdisciplinary ideas - The Independent Institute of Sound and Harmony is now in development.
A volatile mixture of freedom and funk ~ The New York Times
A huge influence on today's current British jazz scene ~ Time Out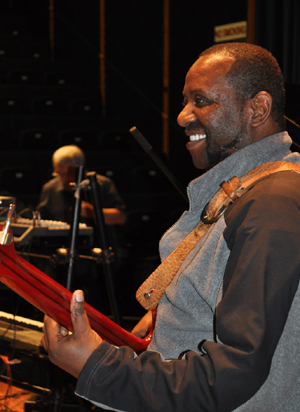 In the 80's he was connected with progressive movement of Polish jazz creating Tie Break, Session Acoustic Action, Green Revolution and cult band Free Cooperation. In 1985 he started working with musicians of British band Pinski Zoo. He performed with other famous British rock, reggae and ethno musicians: Benjamin Zephaniah, JJ Burnell (The Stranglers), Ian Paice (Deep Purple) and Asian Dub Foundation. He recorded dozens of records and some of them were published by reputed world record publishing houses: Warner and KOCH International. His record Tribute to Miles Orchestra - Live as the first in the history of Polish jazz was published by Warner Bros. The CD Zone K published in 2003 with two English musicians Steve Harris and Jan Kopinski was highly evaluated by British press.
Jan Kopinski is a singular musician who has followed a personal path, in a search of an expressive sax sound earning him a reputation as a true original. Born in the UK, his father was a Polish pilot and his mother British. Although Jan tried guitar and harmonica when the UK got the blues bug, it was when he came under the spell of John Coltrane's; "My Favourite Things" epic recording in the mid sixties that Jan took up saxophone seriously: Firstly on a white Grafton acrylic alto then on soprano and tenor. It was in the late 70's that he started his own groups to create the settings for his later work. As a Saxophonist and composer, fronting cross-genre music, ranging from Free-funk to contemporary European jazz, Jan has; for over thirty years in the UK, specialized in improvisational music drawing on jazz and influences from Eastern Europe and contemporary music; exploring his interest in not only Coltrane, Archie Shepp and Ornette Coleman but the hovering energy of contemporary Polish composers like Penderecki and east European folk music.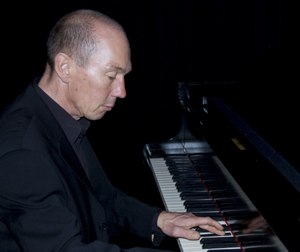 For over 30 years he has led the band Pinski Zoo: The band was regarded as uncategorisable; creating a maelstrom of sound, using hypnotic theme over back-beats. They were labelled Free Funk Jazz / Punk Jazz / Out-funk jazz, etc…… In the late eighties, whilst UK jazz was in the grip of defining itself in the reflection of bop and purist backgrounds, Jan was still pursuing a musical language which felt happy looking at - Penderecki and funk - with a premium on passion. Now many see their influence upon the eclectic hybrid bands of today such as Led Bib, Polar Bear and Acoustic Ladyland.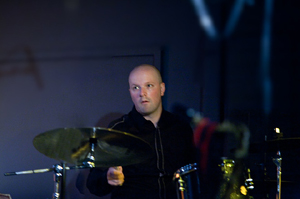 Drummer Pat Illingworth is also on this tour and is an inspired choice, primarily a groove player who has played with a diverse range of musicians from Corrine Bailey Rae, Marcus Miller, Jerry Dammers, James Taylor Quartet, and Hugh Masekela to Deodato and with the Eurythmics; Dave Stewart working on the updated "Alfie" film soundtrack featuring Joss Stone & Mick Jagger.
Kopinski is one of Britain's few authentic voices on saxophone ~ Hi-Fi News & Record Review
PZ is still uncategorisable … still uniquely exciting, danceable and darkly atmospheric, still powers irresistible pulses without stooping to tediously inflexible beats, still conjures nebulous, magical, mysterious soundscapes from forbidding ranks of hardware, still enchants with tender melodies plucked from the rowdiest melee. ~ BBC Music Magazine