Live Jazz and Acoustic Music in Bristol
The new series of gigs at Bristol Old Vic kicks off on the 8th Sept with the Dave O'Higgins and Rob Luft Quartet project based around the music of John Coltrane and Thelonious Monk, that's followed three weeks later (29th) by the cutting-edge Partisans. In October (13th) I am asking Andy Hague to reproduce his outstanding project worked for the Bristol Jazz Festival, celebrating the 60th Anniversary of the release of Miles Davis's 'Kind of Blue' the best selling Jazz album of all time. It was outstanding and worthy of more people being able to hear it, so we're doing it!
There will be one other in this series on Sun 3rd Nov which I have yet to secure, so it's to be confirmed. Hope you can come along to some of the gigs coming up
Cheers, Ian
Sep 8 Dave O'Higgins and Rob Luft 29 Partisans
Oct 13 Andy Hague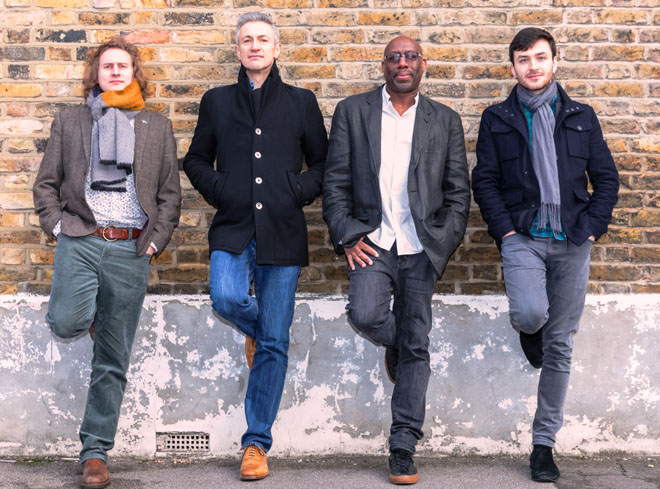 This is part of a substantial 40-plus date autumn tour promoting a new CD O'Higgins and Luft play Monk and Trane (Ubuntu Music 2019).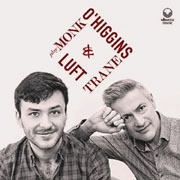 For established giant of the UK jazz scene, O'Higgins, this will be his 21st CD as leader. For bright young "firebrand" Rob Luft, this will be his 2nd. They will be leading a quartet with Irish organist, Scott Flanigan and American drummer, Rod Youngs. The repertoire will be made up of Thelonious Monk compositions (expect some rarely heard ones!) and tunes played by John Coltrane with especial reference to his choice of standards and various collaborations of the 1950s.
Both Monk and Trane were "modernists", but also steeped in swing and the rich tradition of the beboppers. Dave and Rob intend to respect this lineage whilst putting their own mark on it. Expect some swing, fun, grooves and moods from this exciting new collaboration.
O'Higgins experience working with artists spans a huge spectrum, such as US musicians Joey Calderazzo, Joe Locke, Dave Kikowski, Joe Lovano, Jimmy Smith and Wayne Shorter to vocalists Nancy Wilson, Peggy Lee and Kurt Elling and long term work with Sir John Dankworth and Dame Cleo Laine. Co-operations with South African pianist Abdullah Ibrahim to the legendary French pair of violinist Stephane Grappelli and composer / songwriter Michel Legrand. He also toured, and wrote and produced the last Matt Bianco album, "Gravity". Also on Dave's CV: Frank Sinatra (the last London appearance - a week at the Royal Albert Hall in 1992) and a tour and album with Ray Charles (Strong Love Affair)............read more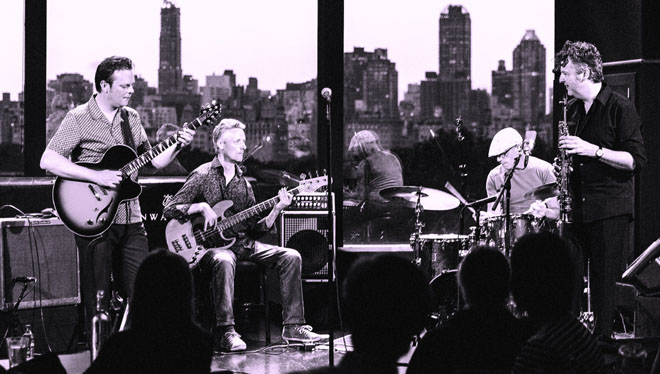 These Guys Are Super Badass! ~ Vancouver International Jazz Festival – June 2014
Since their formation in 1996 Partisans have been thrilling audiences with their ferociously energetic performances. Hailed as breaking the ground for the new wave of British jazz and described by BBC Radio Jazz on 3 as 'One of the most exciting all-star experimental groups in Jazz today'
Eighteen years on from their debut, this mélange of mischievous yet stylish mash-up and virtuosic energy doesn't get old. If anything Robson, Siegel, Kelly and Calderazzo are reaching new heights. ~ 4 stars, MOJO Magazine; No#4 in Jazz Albums of the Year 2014
Partisans are co-led by two of the pre-eminent musicians of their generation, Phil Robson and Julian Siegel. Partisans are real band! The richly lyrical and strongly melodic compositions written by the leaders provide the framework and starting point, underpinned by the rock solid, freewheeling and supercharged rhythm section. Their critically acclaimed new album Swamp, on Whirlwind Records pumps their groove-based sound with viscous voodoo, Hi-Life romps, burning post-bop, no messin' rock outs, spacious reflections and heavy hooks.
With a cult following in the UK, 5 celebrated albums and years of touring around the globe, their June '14 North American Tour included performances at The Xerox Rochester International Jazz Festival, Dizzy's Coca Cola Club (NYC) plus Montreal, Vancouver and Ottawa international festivals and appearances in Seattle and Toronto. More recently, Partisans played at the EFG London Jazz festival plus were invited to play the opening gig of the Tampere Jazz Happening in Finland............read more
Partisans were the highlight of the festival, jazz that makes you blink in its glare ~ John Fordham, The Guardian, at Cheltenham Jazz Festival
Restless, almost reckless energy… delirious listening… consistently thrilling ~ BBC Music Magazine
Andy Hague Sextet - Kind of Blue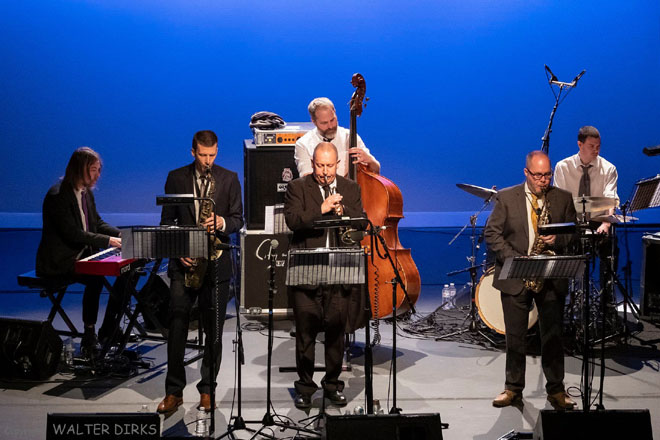 August 17, 1959 saw the release of the seminal album Kind of Blue by Miles Davis. This iconic work, that would become the biggest selling Jazz album of all time, is 60 years old this year and sounds as fresh today as it did on its release. It is a universally acknowledged masterpiece, revered as much by rock and classical music fans as by jazz lovers and still sells thousands of copies a week, worldwide.
To mark this anniversary Bristol trumpeter/composer Andy Hague put together a stellar cast of local musicians to create his project to revisit the music, with a complete track-by-track re-interpretation of the 1959 Miles Davis classic. Debuted at the Bristol Jazz Festival in March this work turned out to be more than just a tribute.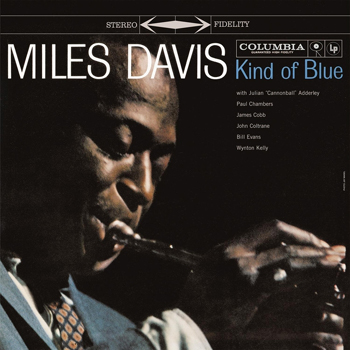 In fact, the sell-out audience witnessed a remarkable performance that exceeded expectations on all fronts. It was accurate, empathetic and nuanced to near perfection, beautifully delivered by this group of musicians.
Davis said that he had attempted to get closer to mixing African and Gospel music with the blues, yet admitted he didn't quite achieve his aim. Nonetheless, he created his most famous work, containing two of the most popular standards of modern jazz, So What and All Blues.
At the time it was made, Kind of Blue was a revolution in itself, a radical break from everything going on. Turning his back on standard chord progressions, Davis used modal scales as a starting point for composition and improvisation (which he would radicalise ten years later); he broke new ground creating warmth, subtlety and understatement in the thick of hard bop.
Kind of Blue turns 60 this year but in reality, its ageless. Tonight will be an opportunity to hear this landmark music again, with a little more information about the album, delivered with pathos and fine musicianship. This is a don't miss gig!...........read more