Live Jazz and Acoustic Music in Bristol
Hi All, After having to stop all music promotions during the Covid-19 pandemic, I'm now starting to look forward to trying to get things up and running again. I really hope you have all stayed safe during this rubbish time in our lives and that you are ALL WELL, vaccinated, and raring to go for some great music coming up in the next few months.
I have two projects worked on for over 14 months and a possible new mini-series of gigs coming up in the Autumn. Hope you can make it along to some live music soon.
Cheers, Ian
Mark Lockheart's Dreamers
Sat 13 Nov 7:00 for 8:00 (£15.26/13.08)Bristol Beacon Foyer Book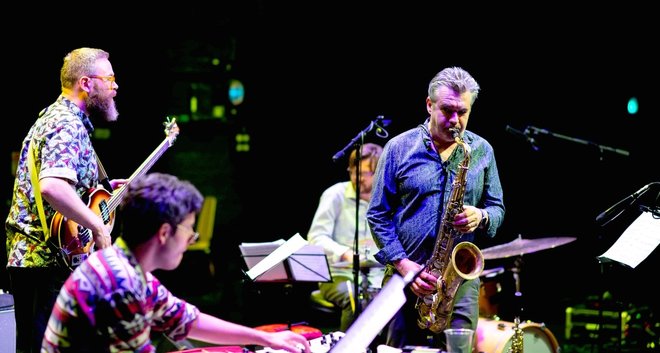 Mark Lockheart relates:
Dreamers is many things to me, a piece of work that is the fruition of both a break with the past but also a logical extension of my other music and also most importantly the birth of a new working group. I wanted this music to be unfussy and direct, but also unpredictable and surprising. The grooves, the sonics and the musical character of each piece are all hugely important and the process led me into a new sound world that's very different from anything I'd done before. People ask me what's behind this music and all I can answer is everything.
The writing process happened quickly for this album my only intention really was to not be restricted by style or genre and let the music flow in the most natural and unforced way possible. Of course there are influences and with hindsight I can hear many of them, John Zorn, Burt Bacharach, Ellington and Kraftwerk are here a bit, not sure how and don't really care. The three musicians with me on this record have been cunningly intuitive about how I wanted the music interpreted and I love how everyone plays on this record. Elliot's wonderful sonic palette, Tom's deep rooted bass playing and Dave's incredible groove and spirit, holds the music high and gives each piece its identity and character. ML
If this new grouping of Mark's is anything like his last creation Malija (w/Liam Noble and Jasper Hoiby) who we heard in Bristol back in Oct 2017, we are in for a right treat!
From Loose Tubes to Polar Bear and beyond, Lockheart's capacity to be ahead of the jazz curve is undeniable. In this new band his combination of lyrical economy and harmonic creativity has found three improvisational soulmates who clearing know how to make the most of his compositions in their own terms. ~ Jazzwise magazine
Dreamers the album will be released early 2022 on Edition Records.