Live Jazz and Acoustic Music in Bristol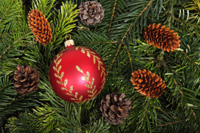 Wishing you all a great Christmas and a better New Year than you had last year! The last gig of 2017 is a fun Christmas special with Alan Barnes Octet project 'A Jazz Christmas Carol' featuring a top class line-up (already selling well).
We commence after Christmas and new Year in 2018 with two gigs in January starting on the 14th with Andy Hague's 'Double Standards' Quartet and the intriguing new rising star Tom Barford with his Band Asterope on Sun 28th Jan. Hope you have great time, and can catch some music soon.
Cheers, Ian
Jan 14 Andy Hague's Double Standards Quartet 28 Tom Barford's Asterope

Andy Hague's Double Standards Quartet
We kick-off 2018 with one of Andy Hague's latest projects: the Double Standards Quartet which aims to play some less often played standards from the likes of Herbie Hancock, Wayne Shorter and Co, and mix that with some of the excellent Hague originals.
Described as one of Bristol's most significant and best loved jazz talents (The Jazz Mann), Andy Hague is one of the city's favourite jazz musicians and a composer of real quality.
Andy has been at the heart of the Bristol jazz scene for over three decades, whether as the main-man of the well-established Bebop Club, leading a clutch of his own excellent bands – including Horace Silver tribute band Silverado, Latin combo Conjunto Gringo and his own Andy Hague Quintet and Big Band – or contributing on trumpet or drums to Fatman Swings and Denny Illett's Big Band.
With a rock solid rhythm section and the ultra-talented Jim Blomfield at the piano we are in for a pretty good start to the New Year..........read more
Tom Barford's 'Asterope' burst onto the UK Jazz scene back in 2014 and have been successfully developing a unique group sound/compositional voice that is unlike anything on the scene today. London based, the group features the overwhelming talents of Pianist Rupert Cox, Drummer Dave Storey, Guitarist Billy Marrows and Bassist Flo' Moore.
Saxophonist Tom Barford grew up in a musical family but came to Jazz after some lessons with jazz educator Will Osborne. Tom joined the Junior Jazz Course at the Royal Academy of Music aged 16, before going on to gain a place on the Undergraduate Jazz Programme at the Academy in 2013 and earning a First Class Hons degree in 2017. 2017 also saw Tom winning the prestigious 2017 Kenny Wheeler Prize in association with the Royal Academy of Music.
We are witnessing the birth of a new star in the jazz firmament. ~ Evan Parker
Tom's writing for this group is largely influenced by various bands and musicians such as The Golden Age of Steam, Mark Lockheart, Brad Mehldau, John Scofield, Paul Motion and Iain Ballamy. They will be releasing Asterope's debut album with this group in 2018 on the renowned record label Edition Records. The Album was recorded in January 2017 at Real World Studios and produced by saxophonist Iain Ballamy...........read more.
A wonderful young player…..It's so exciting to hear him grow! ~ Stan Sulzmann