Gilad Atzmon and the Orient House Ensemble
Gilad Atzmon (Saxes + Clarinet)
Frank Harrison (Piano)
Yaron Stavi (Bass)
Eddie Hick (Drums)
Gilad Atzmon founded the Orient House Ensemble in 2000 with Frank Harrison on piano, Oli Hayhurst on bass and Asaf Sirkis on drums.
In 2003 Yaron Stavi replaced Oli Hayhurst and in 2009 Eddie Hick replaced Asaf Sirkis.
Gilad Atzmon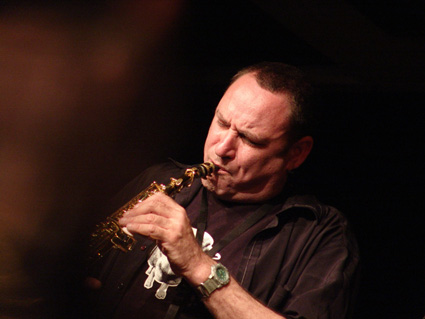 Born in Israel in 1963, Gilad was musically trained at the Rubin Academy of Music, Jerusalem (Composition and Jazz). Up until 1994, Gilad had developed a reputation as a musician and producer /arranger for various traditional Israeli dance and more modern rock music projects that performed throughout Europe and the USA. His love of jazz captured the young Atzmonís imagination and he embraced its origins and improvisational qualities totally.
As a young man he had to complete National service as part of the Israeli defense forces. He was trained as a medic and saw many things first hand, which changed his perception of his homeland and the nature of the relationship of the Arab/Israeli conflict. The effects and his attempts, through published writings, to create a dialogue to cause change in this situation has seen him conflict with many in his own birth country. It was something he felt he could no longer condone at home.
Gilad Atzmon, the ex-pat Israeli saxophonist/clarinettist, combines thrilling jazz musicianship with a maverick political intelligence ~ The Guardian
Moving to the UK in 1994 and settling in London he started afresh with music as his torch and his awesome sax sound as his calling card. It was not long before opportunites arose for him to play with other jazz musicians and soon gained professional work enlisted by the likes of Memphis Slim, Gail Thompson and Kenwood Dennard, and winning the HMV Top Dog Award at The Birmingham International Jazz Festival. During this period it rekindled his interest in the music of home - the Middle East, North Africa and Eastern Europe. Ideas he worked on to incorporate these musical themes would simmer and grow over the coming years, looking for a sound.
In 1996 he was inducted into the ranks of an icon from the punk world, Ian Dury, joining Dury and The Blockheads with whom he toured and recorded for the last few years of Duryís life. He continues to play with The Blockheads to this day. Other work with rock and pop artists since have included Sir Paul McCartney, Sinead OíConnor, The Waterboys, Robert Wyatt and even Robbie Williams!
It was however those musical themes from home that would inspire him to form his own group in the year 2000. The Orient House Ensemble began life in London and started re-defining his own roots in the light of his emerging political awareness. Over the subsequent years Giladís music has moved more and more towards the cultural hybrid he was seeking. As a bandleader and reed player he has been amazing his listeners with his powerful personal style that combines great bebop artistry and Middle-Eastern roots in a sophisticated, sometimes ironical manner. Influenced by Coltraneís powerful approach on the sax, Gilad's live performances are simply breathtaking and overwhelming. His humour and stage personality loved equally by a huge fan base, encompassed in venues up and down the UK and Europe.
Atzmon is surely the hardest-gigging man in British jazz ~ The Times
Atzmon is a loose cannon: a larger than life figure with an almost overpowering musical personality... it's as perfect a jazz marriage as you could wish for ~ Phil Johnson, Independent on Sunday
In 2003, Exile was the BBC Jazz Album of the Year and in 2009, Gilad's album In Loving Memory of America, a tribute to his early love of US Jazz, was highly praised by the British music press. It spawned a live set which is still a working group today, as a tribute to the music of Charlie Parker with The OHE and the Sigamos String Quartet.
Very recent gigs at Ronnie Scottís (for several sell out nights) and last years Brecon Jazz Festival saw glowing reviews of the beautifully constructed Parker and Orient House themes. Most recently the bands latest album (2010/11) The Tide has Changed, have brought new impetus to the ongoing sound-scapes this band manages to achieve.
gilad.co.uk