Gilad Atzmon and the Orient House Ensemble
Gilad Atzmon (Saxes + Clarinet)
Frank Harrison (Piano)
Yaron Stavi (Bass)
Eddie Hick (Drums)
Maverick, award-winning saxophonist Gilad Atzmon and the Orient House Ensemble are back on the road with their latest album Songs Of The Metropolis. Tonight's gig is part of a 29-date tour over the first three months of 2013.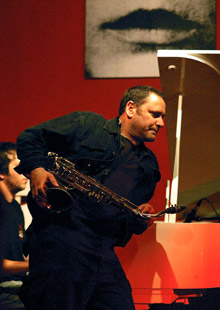 For the last 12 years the quartet have been touring all over the world, stunning audiences with their firebrand performances packed with drama, pathos, luscious harmonies and wit. Atzmon's latest compositions are a sweeping homage to the worlds great cities, from Moscow to Buenos Aires, Vienna to the Manhattan district of New York and Scarborough….? Each tune is at once reminiscent and hopeful; in a time of great uncertainty and turbulence Atzmon and the Orient House Ensemble deliver melodies that provide an anchor to wherever it is that we call home.
Gilad Atzmon is a world-renowned saxophonist, a well-respected musician and a controversial public critic of Israel. Born into a pro-Zionist family and serving briefly in the first Lebanon War, Gilad had a dramatic turnaround after what he witnessed on the frontline as a paramedic. He quit the army, picked up his instrument and moved to London, declaring himself an enemy of the Israeli state. Besides producing some of the modern era's greatest Jazz albums he also published the controversial book The Wandering Who. He is blunt and outspoken in his political and philosophical ideas, and his views on Jewishness provoke both the left and ring wing in Israel. World leaders on both sides of the argument have quoted his written and spoken words on the subject. Despite much false publicity, he continues to strive for peaceful protest while trying to bring pressure for change from both external sources, and a growing internal dissatisfaction with the current situation in the Middle East.
His music is his other voice of protest, but it is inevitably linked to a joyous hope that pervades nearly every powerful note from his being. A Gilad performance is always a tour de force and has been described as a force of nature! He will have you laughing out loud one minute and in tears or thumping your fist the next … never dull.
Whatever your view on this complicated subject the musicianship is beyond doubt, the combined explosive energy with heart rending musical compositions always hit the spot for the benefit of all in attendance, a not-to-be-missed gig on any music calendar.
gilad.co.uk